Awards for young filmmakers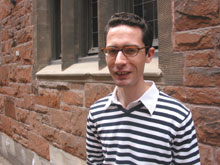 The Dean's Award for Outstanding Achievement in Film Studies was presented to Louis Pelletier, who wrote a highly praised master's thesis on the earliest days of movies in Quebec.
Thanks to boxes of archival material made available to him by the Cinémateque québécoise, Pelletier has taken the first scholarly look ever at a company called United Amusement. It was established by George Ganetakos, who built Montreal's first film palace, The Strand, in 1912.
By agreement with the Toronto-based Famous Players Canadian, Ganetakos waited a few weeks before showing new releases, and kept his growing chain of movie houses outside downtown Montreal. Of course, in those days, that mean the "suburbs" of Mile End, the Plateau, and Notre Dame de Grâce.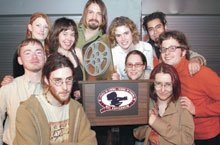 Professor Catherine Russell said in her report on Pelletier's thesis that his work makes a significant contribution to the history of film exhibition in Montreal.
"With access to an important archive, Louis Pelletier has filled in the details of the establishment of a major chain of moving picture houses in Montreal from 1912 to 1930. During this period, a number of important theatres were built, and were linked to a North American distribution circuit.
"Pelletier has provided a close analysis of the business transactions that led to this development, including details of the key players and their contributions. He also describes the architectural planning of the construction of the theatres, and the cultural context of cinema-going in Montreal during this period.
"The means by which George Ganetakos and his colleagues managed to maintain control of their network of theatres into the 1950s provides a fascinating insight into the politics of mass media in an international context.
"One might go so far as to say (although Pelletier refrains from such claims) that the establishment of Famous Players Canada was a key feature in the development of a cosmopolitan, metropolitan, popular culture in Canada's second-largest city.
"Few students at the MA level are able to execute such a meticulous job of structuring, analyzing and summarizing archival research. In many respects, this is the finest MA thesis in any field that I have read. It could easily have been developed into a doctoral thesis, and maybe it should be."
Pelletier said in an interview that he couldn't have conducted his research without the boxes of documents found in the basement of the old Imperial Theatre. He will continue to work with the Cinémateque québécoise, this time on a filmography of all films made in Quebec before 1915.
Silent movies are a passion with him. He remembers watching Charlie Chaplin and Buster Keaton movies on Radio-Canada when he was only eight, and loving them.