The science of why we buy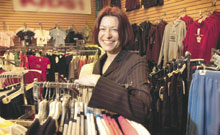 For many, shopping is an exquisite art form, even a type of religion. But for Bianca Grohmann, Assistant Professor in the Department of Marketing, shopping is the focal point of intensive research into consumer psychology. Think of it as the science of why we buy.
Grohmann's insights into consumer purchasing behaviour have earned her the John Molson School of Business's Distinguished Junior Researcher Award, which will be presented at spring convocation.
She studies the way sensory input affects behaviour. She has observed the impact of touch on product evaluation, and how and why ambiance and background music affect consumers in retail settings. "I find retail environments extremely fascinating," she said in a recent interview.
Grohmann is quick to point out that even with the amount of targeted marketing and unconscious messages in the retail sphere, consumers are not easily influenced because "feelings don't always transfer into behaviour. When it comes to purchasing, people are emotional as well as rational."
Surprisingly, given her obvious enthusiasm for the topic, she did not begin her career with marketing in mind. A native of Germany, she received her undergraduate degree in hotel and restaurant administration from Fachhochschule, Munich. "My original goal was to be a general manager for a multi-national hotel."
The desire to do more with her life and be exposed to different cultures led her to the United States and Washington State University, where she completed both her MBA and PhD in business administration with an emphasis on marketing.
She began teaching at Concordia in 2002. After several years in a small-town environment at Washington State, Montreal was a welcome change of pace. She is learning to play tennis, and has taken up biking and skiing once again.
Knowing now how vibrant Montreal is, she laughs at the memory of her first visit. "I came here in October 2001 for my interview [with the University]. The city looked nice, but I wasn't prepared for how exciting it would be to live here. After two years, Montreal feels like home."
Grohmann enjoys the academic environment at Concordia, finding her freedom to let her interests guide her research "very rewarding." She also is impressed with the interest level of students in her classes. "The students really listen and ask excellent questions. They seem to think one step further, and it shows."
This is the second year the Distinguished Junior Researcher Award has been given. A research grant of $5,000 will allow Professor Grohmann to study holiday-related consumption behaviours. She is will examine how consumers balance the "sacred component" of holidays with the blatant consumerism and materialism promoted by retailers.