Recipients of research awards fêted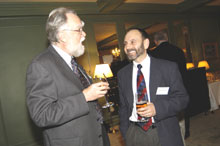 A reception was held May 6 to honour recipients of Concordia University Research Awards and three retired faculty members.
Theologian Michel Despland was given a senior University Research Award (URA) for 2003. He is recognized internationally for his scholarship on 19th-century France.
Charles Acland (Communication Studies), a rising star in media and cultural theory, was given a 2003 junior URA. The junior designation goes to a researcher who has been at Concordia from three to seven years, and who has demonstrated particular research or artistic leadership.
Psychologist Barbara Woodside has been named a senior URA for 2004. She is an outstanding teacher, and an international expert in the complex interaction of neural, endocrine and behavioural processes in mammals in relation with pregnancy and lactation.
Management professor Gary Johns was also named a senior URA for 2004. He is a leader expert in absenteeism in the workplace, and was also chosen as the 2003 Hooker Distinguished Visiting Professor, DeGroot School of Business at McMaster University.
Art historian Kristina Huneault was given a junior URA for 2004. Since joining the university in 1999, Dr. Huneault has deeply influenced her colleagues through her scholarship and teaching.
She published a book, Difficult Subjects: Working Women and Visual Culture, Britain 1880-1914 (London: Ashgate, 2002), whose success has led to her current research on Canadian and Quebec subjects.
The reception also celebrated three outstanding former faculty members recently named Distinguished Professor Emeritus: Zalman Amit (Psychology), Sheila McDonough (Religion) and Edward Pechter (English).