Glamour and struggle: Women of silent film era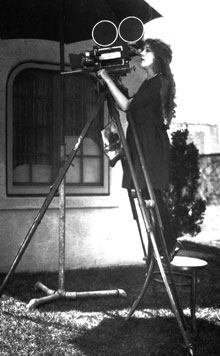 Two seventh-floor conference rooms in the Hall Building are unofficially being renamed Pickford Place and Greta Garbo Salon during the first week in June, when the third international Women and the Silent Screen Congress is held for the first time in Canada.
Organized by two professors at the Mel Hoppenheim School of Cinema, Rosanna Maule and Catherine Russell, the Congress will bring together academics, students and movie buffs to watch and discuss silent films. The goal is to stimulate research, attract the interest of tomorrow's academics and establish women of the silent screen era as a legitimate field of study.
Associate Professor of Film Studies Catherine Russell said, "It's a relatively new direction in the area of film studies that has opened up in the last 10 years. It's not only about discovering new films and filmmakers, it's about looking at film history from new perspectives."
Russell will be part of a panel on Japanese cinema, while Assistant Professor of Film Studies Rosanna Maule will talk about authorship in early cinema.
Both women are members of GRAFICS and the Women Film Pioneers Project (WFPP), sponsors of the event. GRAFICS is a Université de Montréal silent film research group and the WFPP is an American-based international group dedicated to advancing research on women in the early film industry.
Maule has dreamed of bringing the congress to Concordia since attending the previous one in Santa Cruz, California, in 2001. She called bringing feminism and the silent cinema together "invigorating."
Highlights of the congress will include music. Silent film screenings will be accompanied live by pianist Sylvia Moscovitz. There will also be a premiere of a score by Montreal composer Kathy Kennedy to accompany A Fool and his Money, a 1912 film directed by Alice Guy Blaché that was recently restored. The film has an African-American cast.
"It was rare for a French filmmaker to move to the States to make a film — and then to cast African-Americans in a film was unheard of," Maule said. "Blaché was a pioneer, and arguably the first female filmmaker."
In the spirit of the era, organizers have named panels with fetching titles, such as "She Works Hard for the Money," at Pickford Place June 2, and "Sexualities: Desire & Innocence," to be held in the Garbo Salon June 3.
"Movies produced new images of women, such as the vamp whose opposite was the innocent, virginal woman. There's a lot of research going on about those images," Russell said. The congress will also discuss early screenwriters, filmmakers and producers in international film industries.
"There's also research on women spectators," Russell said. "Before the '20s, many story lines were about white slavery and about women being captured. Female audiences played a huge role as moral authorities who said those parts had to go."
The entire congress is a bilingual event with simultaneous translation. It takes place June 2-6 in the Hall Building with screenings at De Sève Cinema in the J.W. McConnell Building.
The congress web site, designed by Concordia MA student Adam Rosadiuk, is a visual feast of early film stars and has a detailed congress program. The address is cinema.concordia.ca/wscreen/. Garbo and Pickford are waiting.