Dental floss for strong arches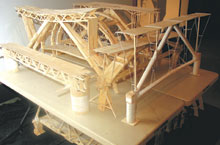 Popsicle sticks, glue and a whole lot of floss filled Room H-110 on Friday, March 5, as Engineering students from across Canada and beyond took part in Concordia's 20th Annual Bridge-Building Competition.
The contest, which lets students transfer their textbook know-how into real-world design, puts student-created bridges through their paces by subjecting them to The Crusher, a machine capable of generating up to 10,000 pounds of force.
"This is something that everybody enjoys," said Alisa Martinez Avilés, president of the Concordia chapter of the Canadian Society for Civil Engineering, which organized the event. "No matter what faculty they're from, they often come and snoop around that day."
This year's competition had 36 teams, comprising 165 participants from 17 different schools in Canada, the United States and France. The top prize of $1,200 went to Cégep de Chicoutimi, whose modified A-frame bridge, weighing in at just over one kilogram, was able to support a staggering 1,050 kilograms.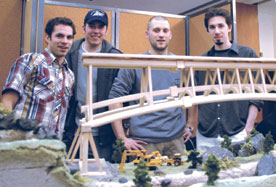 It sounds impressive, but it's got nothing on last year's winning entry from Ryerson University, which was able to take over 5,000 kilograms of load, also using an A-frame design. It is this perennial reliance on A-frames, which are particularly well-suited to withstand the trials of The Crusher, that prompted a group of Concordia students to start their own team, aptly named "A-Frames are for Losers."
One of three Concordia teams in this year's competition, they explained that A-frame designs lack the panache and creativity of other designs.
Accordingly, this year's contest also featured an additional rule, where the bridge is tested for strength at a random point along its span using a 25-pound weight, in an attempt to help stave off the A-frame crowd, or at least keep them in check.
One of Concordia's oldest traditions, the competition was the brainchild of the late Professor Michael F. Troitsky. Next year's competition will be renamed in his honour.