More proof that Art Matters all over Concordia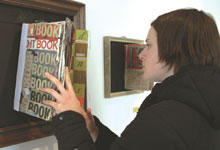 Dance marathons and jumping on the bed, among other activities, were incorporated into the two-week, multi-disciplinary student extravaganza known as Art Matters.
Now in its fourth year, Art Matters celebrates and supports the developing talent within Concordia's Fine Arts faculty and beyond. The festival, which kicked off March 5, runs through to March 19. For schedule of remaining events, visit http://artmatters.concordia.ca.
A free ArtWalk tour highlighting student and alumni artworks throughout the downtown campus will be offered on Friday, March 19, from 3-5 p.m. Spaces are limited. For reservations, please call ext. 4701, or e-mail laurels@alcor.concordia.ca.