Liberal Arts College marks 25 years teaching great books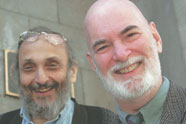 At 25 years and counting, the academic partnership of Frederick Krantz and Harvey Shulman has lasted longer than most marriages, and by their own account, their endeavour has survived against the odds.
Krantz and Shulman are the founders of Concordia's Liberal Arts College, which celebrates its 25th anniversary this weekend. Alternating in the roles of principal and vice-principal, they are the only two faculty members of the small college who have been there since the beginning.
"We had difficulty getting established because our colleagues didn't necessarily understand this type of program," Shulman recalled in an interview. "We had to struggle through some difficult times in terms of creating the college as a success the way it is now."
Having started with no permanent staff, and professors being "borrowed" for a year at a time from other departments, the college now has a permanent teaching staff of eight. It is one of five colleges in the Faculty of Arts and Science.
The Liberal Arts College has found its place within Concordia, providing a unique type of undergraduate education based on a core curriculum of the great books of Western civilization, from antiquity to the present. Its students are exposed to some of the greatest writings the Western tradition has produced, as well as art and music.
There's a great demand for such general education, Krantz observed, noting that the college receives hundreds of applications every year from all over Canada and beyond. It takes on about 60 students each year.
"The college attracts a great many first-class students, who then go on to major in one of Concordia's departments," he said.
As they were preparing to celebrate the quarter century of the college, Krantz and Shulman sat down with Thursday Report to reminisce about its origins, the curriculum, and the question: what makes for a good education?
Krantz: "Basically, there was a group of people who shared a notion that an alternative kind of education would be good. The feeling was that the Canadian structure, which stresses a single major, didn't educate broadly. We had the idea that there would be a broader kind of core curriculum that would represent different fields of knowledge. And we would do it through the use of great books."
Shulman: "The great books are our teachers. The staff is there to make an appreciation of the great minds and why they are of such significance and how they have transformed our lives."
Krantz: "This kind of education is not common in Canada. To some extent, we were going against the grain."
Shulman: "In some sense, we are reverting back to an older tradition of learning, which is increasingly lost."
Krantz: "The key thing that any education should engender is a respect for learning, a desire to know. We approach that by saying that we think the way to get into this is to read the best things that have been written and said, and understand art and music, and open up worlds."
Shulman: "We try to open up worlds for people to pursue the areas that they see what they can do in. And that's why our students have gone on to very diverse type of programs for graduate and professional schools, from the sciences and medicine to becoming academics themselves."
Krantz: "Students who come to the college will encounter the key modes of knowledge, the key disciplines. They work in history, political theory, literature, philosophy, religion, art history. And a student really realizes what he or she likes or what they're good at in the college."
Shulman: "It's regrettable that more students don't have the opportunity to partake in that."
Krantz: "While there are other structures that teach liberal arts in one way or another, we are the unique example of a completely core curriculum program on a three-year basis, where a student can get a liberal arts major in Western Society and Culture.
"The Western tradition is a tradition of critical discourse. It's not the celebration of great men and women. From the Bible forward, from the Greeks forward, great books are written by people who are critical of the world around them."
Shulman: "You don't understand the contemporary world and who we are today unless you understand our origins. The works that we're reading are not of antiquarian interest. We read them because they're still alive."
Krantz: "The great book is the Bible. It's a point of pride that our program begins with about a month of reading key biblical materials. Students read Genesis and Exodus. Among the Greek materials, they read Plato's Republic. In literature, they read Sophocles, Homer, they read Virgil's Aeneid, a great Latin Roman epic."
Shulman: "It's very important to us that students have the opportunity to read directly, to form their own opinions. Not simply to be told what Plato said, they have to read it themselves."
Krantz: "We used to end the first year in the 19th century. The first year now ends in the 17th century. We used to not have a 20th century course. Now, the third year final seminar is on the 20th and 21st centuries. So the student gets a sense of the problems of modernity. There, one of the questions always is: what is enduring?"
Shulman: "In antiquity, the major classics have stood the test of time. The books remain more or less stable in the selections from year to year. This is less true on 20th century material, which is more changeable. Everything contemporary doesn't measure up to what has lasted two millennia."
Krantz: "A lot of the more recent materials are still being winnowed; it's not quite clear what's important and what isn't. For instance, as we moved into the 21st century, some of the 20th century materials began to look less important. Twenty-five years ago, when we started this, the Russian Revolution had more importance than it has today."
Shulman: "Historically, it's still important. But we had much more of a Marxist tradition when we began the college, because the world looked different."
Krantz: "When we started and we talked about Lenin, some students thought we were talking about John Lennon. Today, they don't even know who John Lennon is. So things change."
The same is true for the teaching staff of the college. In addition to Krantz, a historian, and Shulman, a political scientist, the college has been able to hire five new full-time faculty members in the last few years, with specializations in comparative literature, classics, and art history, among others.
The two founders are pleased that their pioneering initiative has thus been assured a permanent place within Concordia, Shulman said.
"As much as Fred and I take a great deal of pride in what we've done, I think at the end of the day we're going to take a great deal of pride in ensuring that it's going to survive with the next generation of faculty."
LAC celebrates this weekend
Celebrations of the 25th anniversary of the Liberal Arts College kick off on Friday, March 19, with a guest lecture by classical historian Donald Kagan of Yale University, titled "Why Study Western Civilization? Some Practical Considerations" (Hall Building, Room H-110, 5 p.m.). The address will be followed by a wine and cheese reception.
On Saturday, alumni and students of the college will attend a reunion, beginning with a breakfast. Throughout the day, a number of panel discussions and roundtables will be held. In the evening, there will be a cocktail party at the Omni hotel on Sherbrooke St., followed by a dinner-dance.
The college has been tracking down its alumni for the reunion. Out of about 1,000 alumni of the college's entire history, many now work in fields ranging from academics and journalism to government and the arts.
The college's alumni are teaching at universities throughout North America, including the University of Illinois, Simon Fraser University, the University of Alberta, and Boston University. Others work at the CBC, the BBC, the United Nations and various NGOs.