Anderson tries for National squad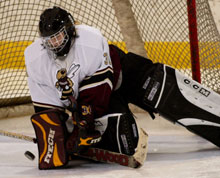 Cecilia Anderson, the Concordia women's hockey team's standout goaltender and surprise of the season, will attend the Swedish national team's training camp Feb. 2-7. The camp will determine which players will represent Sweden at the IIHF World Women's Hockey Championship March 30-April 6 in Halifax.
Anderson is determined to prove she can play at the international level. "I'm going to camp because I want a spot on the national team for the world championship," she said. "I am going to show the coach what I can do."
Anderson, a native of Väddo, Sweden, joined the Stingers in January 2003. She practised with the team last winter and then stepped into the starting job last October. To date, she has played in 19 games, posting a 15-3-1 record with seven shutouts and a goals-against average of 1.36. Her save percentage is .923.
"There's a lot more opportunity for women to play quality hockey in Canada," she said. "I've improved a lot since I've been here. I have more confidence from playing a lot of games. I think I've stepped up every aspect of my game."
In addition to daily ice time and a lot of game time, Anderson works with coach Dominic Roussel, who played 10 years in the NHL, including five seasons with the Philadelphia Flyers.
The 21-year-old Leisure Sciences major will leave Montreal after the Stingers home game versus the Ottawa Gee-Gees on Feb. 1. She will work out with the national team Feb. 2-7 and return in time for Concordia's game in Ottawa on Feb. 8.
Meanwhile, after an upset 3-2 loss to McGill earlier in the month the women's team has started a modest two-game winning streak against Ontario-based competition, beating Guelph 2-1 and Carleton 7-1.