Injury-riddled Stingers hope to have their horses back
Hockey squad battles McGill Redmen for final spot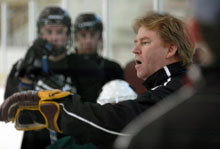 Kevin Figsby says two things have to happen for his Concordia men's hockey team to make the playoffs. They have to get all their injured players back, and they need the school student body to show up in droves for their remaining three league games.
The Stingers started fast out of the gate this season posting a 6-win, 4-loss, 2-tie record in the first half of the season. During the Christmas break they also won the inaugural Montreal University Cup Hockey Tournament which they hosted at the Sportsplexe in Pierrefonds.
The year 2004 has not been kind to them, however, with four key players falling to the injury bug. As a result, Concordia has but one tie and four losses this month, meaning they are fighting for their playoff lives with the McGill Redmen. Only the top three teams in the division qualify for post-season play.
The Stingers currently stand fourth, one point behind McGill. Concordia has seven games remaining on the league schedule, while the Redmen have six games remaining.
"When we have our key players back, which we're hoping will be for this weekend, we'll be fine," Figsby said Sunday, a day after his team suffered a tough 6-4 loss to the first-place Gee-Gees in Ottawa.
"You go as far as your veteran players take you and both our fourth-year players (Philippe Ozga and David Comeau) have been out of the line-up. That's our starting goaltender and one of our top penalty killers. Let's face it – we need them and everyone else healthy to succeed."
Ozga underwent knee surgery Dec. 22 and started skating last week. He was the backup against Ottawa last Saturday, and is expected to make the start Friday when the Stingers face the always tough Patriotes in Trois Rivières. Comeau and Derek Legault, who has also been injured, should also be back in the line-up.
Figsby, who has been at the helm of the Stingers since Jan. 5, 2000, says the fact they are battling their cross-town rivals from McGill should make hockey fans in this city take notice.
"University hockey is among the best you'll see anywhere and our rivalry with McGill is always strong," he said. "More than 1,000 fans showed up the last time we played at McGill and now we need our own students to step up and show support for the team when we play at home. If we can pack the arena for our last three home games it could really motivate our players."
Figsby said the team played before 10,000 fans at the University of North Dakota in a pre-season game and the atmosphere was "just electric."
"I realize our arena can't hold that many people, but there is no reason why we can't get a thousand people out there," said Figsby.
The last three home games are against Ryerson (Feb. 6), Toronto (Feb. 7) and UQTR (Feb. 20). The playoff picture may still be in doubt when Concordia visits McGill in the last regular season game on Feb. 21.
Ice Chips: Figsby is currently working on his Canadian Hockey Association Level 4 coaching certification. It is the highest level of certification offered by the CHA and is designed to prepare coaches for leadership roles in national and international hockey. Less than 30 Canadian coaches have reached this level.