Careers From Here event gives mentoring a boost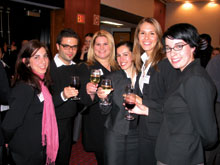 The Concordia University Alumni Association is once again working to give students a leg up in their fledgling careers, with the recent launch of the Careers From Here Speakers Series.
An initiative of the Alumni Relations Mentor Program, Careers From Here got underway with a panel of speakers and a cocktail reception at Concordia on Jan. 22. The inaugural event drew more than 100 students and alumni, and focused on opportunities in the business world.
"Getting a job is your first real marketing test. There's a big gap between what we expect in school and the realities," Rabih Sebaaly , told students. A 1999 graduate, he is now marketing manager for Ombrelle.
Other speakers were Guy Hébert, an executive search consultant who graduated from the executive MBA program in 1998, and Ashkan Karbasfrooshan of the online magazine AskMen.com, who graduated with a finance degree in 2000. While they represented different career paths, the panelists shared a common message: persistence pays, but it's finding a good fit that's most important.
Careers From Here is the brainchild of Lauren Gould, Concordia's award-winning young advancement professional, who has brought together a team of 15 alumni that aims to present two events a term.
The speakers series will draw from more than 160 mentors registered in the Alumni Relations Mentor Program, most of them Concordia alumni. These mentors provide close to 600 students with advice and support online. The speakers series is intended to get students and alumni together in face-to-face interaction.
Cristelle Basmaji, president of the Commerce and Administration Students Association (CASA) in 2001-02, chair of the CUAA Student & Campus Relations committee, and a 2003 graduate, said she was keen to work with Alumni Relations to organize activities and services for students that her graduating class would liked to have had.
Another alumni volunteer, Marc Chabot, an MBA graduate from Sir George Williams University, who is now semi-retired, explained why he chose to be a mentor to students.
"I owe a lot to Concordia — they put me on my life path," he said. "They saw I was a marketing person."
Chabot contributes his time as a judge of Concordia's International MBA Case Competition and works with the alumni association. He has two sons now at Concordia, one in the JMSB and the other in psychology.
Ana Maria Restrepo and Ana Rodrigo, both international business students who attended the seminar, agreed that at an event like Careers From Here, "we learn the kind of things we'd never learn in class."