Stephen Bronfman talks about doing well and doing good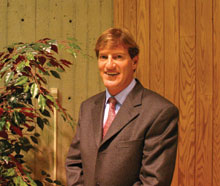 Concordia students were treated to a candid talk by Montreal businessman Stephen Bronfman on Jan. 19, on his business, family and the importance of good people — so candid that he wanted to keep most of his remarks within the room.
His talk, which drew in 60 students, was co-sponsored by the Commerce and Administration Students' Association and Concordia Hillel, whose co-president Dan Hadad said afterwards, "I think it was a big success. He was a very funny, interesting speaker."
The event was co-ordinated through Hillel's Student Business Resource Program, which gives members an opportunity to make use of Hillel's connections throughout the business community.
Alexis Robin, president of CASA, felt that the event helped to put a face to the legend and legacy of the Bronfman family.
"This was a real man, not just a name you heard in the newspapers." Such events are crucial to realizing the goals of CASA. "Political representation is great, but our main objective is to create the value of a JMSB degree. I really think that events like this can help add a lot of value overall to the experience of commerce students."
Maria Perugini, VP External for CASA, said, "One of CASA's aims is to help students bridge the gap between theory and practice, to go beyond what's in the classroom."
Bronfman is chairman of Claridge SRB Investments Inc., which has interests in music, entertainment, and most recently, food. Its activities range from Rolling Stones concerts to rolled oats.
When looking at companies to invest in or purchase, he explained that the most important factor is strength of character in the company's management. Strong management will almost always equate to more profit.
He also said that the second crucial factor in his decisions is the potential for fun — an observation that took some listeners by surprise. He said that today's businesspeople should look beyond financial soundness alone, and seek self-fulfilment.
In addition to his corporate activities, Bronfman is very much involved in philanthropy, as the president of the Stephen R. Bronfman Foundation and as a member of the board of directors for the David Suzuki Foundation.
CASA and Hillel will bring more speakers to Concordia, separately and perhaps together. For more information on CASA or upcoming events, go to www.casa-jmsb.ca.