Discordia doc shown here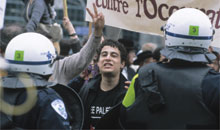 A documentary about last year's political turbulence at Concordia by a pair of first-time filmmakers will be given a Concordia premiere on Feb. 2 and shown on national television two days later.
Discordia was made by Ben Addelman and Samir Mallal, two recent graduates of Concordia's Communication Studies program. It was picked up by the National Film Board and produced by veteran documentary filmmaker Adam Symansky, who described the 71-minute film as a considerable achievement for neophyte cineastes.
"Samir was doing an internship here on something completely different, but a week after the Netanyahu event on Sept. 9, 2002, he said he'd been doing some shooting at the university, and asked if we'd be interested in the project," Symansky said by phone from his NFB office.
Mallal kept shooting as the Concordia Student Union grappled with the issues surrounding the Palestine-Israel controversy that dominated student politics that term, and he kept in touch with his friend Addelman, who was working in Toronto.
"Ben had a bit more experience, and when he came back to Montreal they worked together," Symansky explained. "They were also very lucky." That's a reference to richness of the material the young filmmakers had to work with.
Discordia focuses on three student politicians at the centre of the storm, and follows them from the mini-riot that cancelled a speech by former Israeli prime minister Benjamin Netanyahu in September to the CSU election in March.
The three featured students are Samer Elatrash, Aaron Maté and Noah Sarna. Their personalities are a study in contrasts, and Maté's struggle to define and assert his principles is especially striking.
The film is replete with irony, including Elatrash's love for a Jewish girl he met in Dennis Murphy's course on propaganda. Also ironic is the fact that the campus that seems so dramatic in the film has been peaceful so far this academic year.
Discordia will be shown Monday, Feb. 2, in H-110 at 7 p.m., no charge. You can also see it on CBC Newsworld's Roughcuts on Wednesday, Feb. 4, at 10 p.m.