Canadian Irish Studies Journal and Cine Gael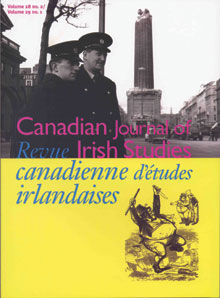 The latest issue of the Canadian Journal of Irish Studies is out, and it's a double issue, packed with scholarship and general interest, ranging from poetry and vintage photos to an article about Irish-Canadian and Irish-American policemen.
Concordia PhD in Humanities student Brad Kent has contributed an essay called "McDrama: The Sentimental in Martin McDonagh's The Beauty Queen of Leenane and Conor McPherson's The Weir." Kent also serves as the assistant editor.
The associate editors include Kathleen O'Brien and Sylvie Gauthier, both from Concordia, and O'Brien, Rhona Richman Kenneally and Jennifer de Frietas are design advisors.
Four Concordia faculty members serve on the editorial board. Matthew Barlow is one of the two book review editors, and seven of those who have contributed book reviews are associated with Concordia.
Included is a photographic essay on the public statuary of Dublin and its symbolic significance by Yvonne Whelan, from the University of Ulster. She will be the O'Brien Visiting Professor in Irish Studies at Concordia next fall.
Sadly, it may be the last time the Journal appears in such a refreshing format, replete with images and reader-friendly design. Michael Kenneally is stepping down as editor due to the pressure of his duties as director of the Concordia-based Centre for Canadian Irish Studies.
Future issues of the Journal will be edited by guest editors at other universities, and the publication will likely revert to the conventional scholarly format of text only.
Kenneally said that because scholars in the field are early in their careers, they lack the influence to raise the funds needed to maintain the Journal in its present format. "Concordia has been very generous," he added.
Cine Gael is back with more Irish films
Cine Gael launched its 12th season with a wine reception on Jan. 23 following a screening of The Boys From County Clare (director, John Irving) and a talk by John Griffin of The Gazette.
We asked co-ordinator Lynn Lonergan Doyle to reflect on Cine Gael's staying power. She said that both Cine Gael and the Canadian Irish Studies program have been supported by the St. Patrick's Society.
"We also collaborated with Marc Gervais, S.J., on a film course called Irish Films: War and Peace," she went on. "Another year, we intersected with Father Gervais' John Ford course."
Cine Gael has a small, dedicated committee who brainstorm to get the season together.
"In 1998, in conjunction with Concordia's now defunct Conservatoire d'art cinématographique Art, we presented A Celebration of Irish Film: Voices of the Nation. We showed 55 films in 25 days."
Cine Gael usually presents an annual evening of award-winning short Irish films, which provides an opportunity to showcase new Irish filmmakers.
They have also had weekend events — A Weekend of Irish Women Film Makers, A Weekend with [actor] Stephen Rea, A Weekend with Rod Stoneman (former CEO of the Irish Film Board and now director of the new Huston Film School in Galway).
"The Irish film industry is growing," Doyle said. "Some of their films receive wide commercial distribution, notably those of directors Neil Jordan and Jim Sheridan, and those starring Daniel Day Lewis, Richard Harris, Stephen Rea, Pierce Brosnan and others.
"However, there are many smaller films that never have an international commercial release, and for the most part these are the films we screen at Cine Gael."
When the series began 12 years ago, Doyle explained, "we were able to pluck films from the Concordia film archive, or present a great variety of older films with some newer ones. Now we tend to try and get recent releases, and not infrequently we screen films that have not yet opened commercially.
"We are fortunate to have Kevin Tierney on our Cine Gael committee. He is a local film producer, president of Park Ex films, board member of Alliance Atlantis and newly appointed chairman of Cinématheque Québécoise. His contacts are very helpful.
"We are also in touch with the Irish Film Institute in Dublin and the Irish Film Board in Galway, but ultimately, finding a film comes down to research and reading and tracking, one film at a time.
Dana Hearne has written an article about Cine Gael that will appear in a future issue of the Canadian Journal of Irish Studies.
Doyle added that she is one of the first woman graduates from Loyola College (1966 or 67). Lonergan University College, which just closed on the Loyola Campus, was named after her uncle, Bernard Lonergan, S.J.
The next film shown by Cine Gael will be Night Train, directed by John Lynch and featuring John Hurt and Brenda Blethyn, on Friday, Feb. 6. For the full schedule, go to www.cinegaelmontreal.com/. Screenings are at the DeSève Cinema, 1400 Maisonneuve Blvd. W., at 7 p.m., and cost $5 for non-members.