JMSB is positioning itself for fundraising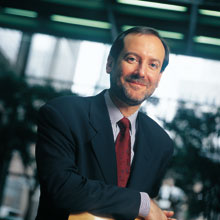 The John Molson School of Business's advancement and alumni relations strategy is a work in progress, according to Associate Dean Michel Magnan.
"At this stage, we are pursuing two key goals. First, we want to offer potential donors an opportunity to become partners in our success by funding activities and actions that enhance our students' educational experience. To that end, we are developing a portfolio of projects, initiatives or events.
The advancement officers are Cornelia Molson and Simone Gabbay.
"Among other duties, Cornelia is responsible for our major fundraising or profile-raising events such as the Awards of Distinction and the Best of the Best.
"The next Best of Best event is planned for April, and its goal is to raise $100,000 net for doctoral fellowships ($93,000 net was raised in last year's event). We are currently identifying the venue and recruiting the event's co-chairs."
Gabbay, a 1998 management graduate of the JMSB, recently came to Concordia from a similar position in McGill's Faculty of Law. She will take charge of the planning and management of School's first annual campaign.
She will work with faculty, staff and the Faculty Advisory Board to identify alumni and other prospects capable of donating $2,000 to $25,000 a year to the School. She will start by setting up a network of volunteer canvassers, and training and supporting them.
The chair of the campaign for 2003-04 will be Patrick Phelan, Vice-President, BMO, Nesbitt, Burns. Magnan said, "The campaign will officially start on June 1 and the goal is to raise at least $200,000 for student support."
A second goal is to enhance links with alumni through the creation of the JMSB Alumni Network. This task will fall to Uzma Mustapha, who will support the activities of the new John Molson School of Business Alumni Chapter. JMSB shares Mustapha with the Faculty of Arts and Sciences.
Other members of the School's Office of External Affairs, especially Marjorie Davis and Natasha Motard, are also involved in advancement and alumni relations activities.
"In addition, we are currently assessing which JMSB activities could be sponsored," Magnan said.
"We are planning to organize a naming opportunities contest internally to raise the excitement about the forthcoming building, and create some interest in JMSB initiatives among students. The idea is to be ready to enter any eventual fund-raising campaign for the building with innovative ideas."