Pierre Gauthier is molding the future of Montreal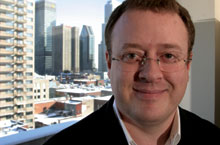 Pierre Gauthier is training the next generation of urban planners to build a better city — starting with Montreal. Gauthier, a professor in Concordia's Department of Geography, Planning and Environment, teaches Advanced Urban Laboratory, where students learn to apply contemporary concepts of urban planning in existing situations.
In the past two years, students have come up with planning solutions around the Decarie Expressway and the Glen Yards site, a former rail yard where McGill University's hospital centre is to be built.
This year, they're looking at Griffintown, the former industrial area around the Lachine Canal that is now being converted into residential and leisure space.
In some cases, like that of the Glen Yards site, students have come up with ideas that were later, independently, adopted in the official plans.
"It generates very interesting ideas by students," Gauthier said.
The practical focus of the course reflects a shift in views about the importance of urban physical planning, explained Gauthier, who has a PhD in urban morphology, or the study of urban forms.
For decades, especially in the 1960s and 1970s, city planning took a back seat to infrastructural and construction needs. All construction, from buildings to highways, tended to be seen exclusively in technical terms.
"Physical planning was something that was left aside for many years, as people concentrated on social and economic issues," Gauthier said. "It was the weak link in the planning practice."
For instance, highway construction was seen as a technical transportation problem. "It was not looked at in terms of the impact such infrastructure would create on existing fabrics."
The Decarie Expressway is a case in point. "It cut neighborhoods in two without consideration of the consequences." In recent years, however, the long-term social and environmental effects of such megaprojects have been taken increasingly into account.
"Now, we try to have better informed planning practice, to try to foresee the impact of planning policies on the urban form and its evolution over time."
The shift in thinking about urban planning reflects the recent name change of the department, from Geography to Geography, Planning, and Environment.
Still, new projects pose new challenges, Gauthier said.
In the case of the Glen Yards site, he was disappointed to find that plans were originally being made for one giant complex that would not open the area up to traffic from the areas around it – or make it "permeable," in the jargon.
After studying the location, Gauthier's students concluded that it would be better to build a campus-style complex, a solution that would allow the street grid to be uninterrupted. Eventually, the official planners came around to that view as well.
In the case of Griffintown, Gauthier fears that modern lessons of urban planning have not been sufficiently heeded. Though multimillion dollar investments have been made to turn the shores of the Lachine Canal into a public park with bicycle paths, newly built residential complexes have their backs toward the canal.
As a result, "you don't know if you're in a public space or a private space because it's fenced and you're looking at the backs of condominium buildings."
Gauthier's class will study the problem of "how to properly give access to the area, so that it becomes a façade for the neighbourhood instead of its backyard," he said.
"I try to bring my students to look at the relations between the site with the surrounding fabrics," he said. "Our generation is producing a piece of the city, and we have the responsibility as planners to intervene in the city while respecting its history."