In brief
Air Currents in Ottawa
The John Molson School of Business and the International Centre for Aviation Management and Education (ICAMER) hosted a conference called Air Currents: Building the Future of Canada's Air Transport Policy at the Westin Hotel in Ottawa on Jan. 27 and 28.
The conference brought together academics and aviation industry professionals to discuss issues facing the turbulent aviation industry.
These included Canada's international air transport operations, the structure of Canada's domestic air services, regulations governing the competitive structure of the industry, and the role of key service providers.
They also looked at the impact of new security requirements and the dramatic cost increases resulting from the events of Sept. 11, 2001.
ICAMER is under the direction of JMSB Professor Dale Doreen.
Career Fair draws a crowd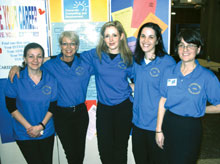 Photo by Greg Fretz
Francine Salinitri, Dale Robinson, Anna Lenkovskaya, Anna Barrafato, and Susan Hawke wore blue for the latest edition of the Arts and Science Careers Fair, held Feb. 5 on the mezz. As many as 1,000 students may have visited the busy site. The event was initiated four years ago by Counselling and Development, and has grown from 12 exhibitors to 23. "Students are pretty appreciative of what we do," said Dale Robinson. "It helps to create questions about their careers early in their academic life, such as, What kind of skills should I be working on?" Francine Salinitri, who founded the event, added, "Arts and Science students say there aren't job opportunities for them, so we organize our careers fair around companies that specifically target them. This year went really well — we had to turn down companies!"
Queen's takes crown
Thirteen schools competed in this year's edition of the Undergraduate National Case Competition (UNCC), a bilingual academic competition hosted annually by the John Molson School of Business.
Queen's University won the top award. Université Laval came second, Bishop's was third, and the Asper School, part of the University of Manitoba, won an award for team spirit. All but one of the teams was from Canada; the other came all the way from Austin, Texas. Results can be found at www.casa-jmsb.ca/uncc.
The competition is supported by Jacob, Meloche Monnex, the Commerce and Administration Students' Association at JMSB, among others.
Six JMSB students organized the event.
The competition was judged by six volunteers, including Concordia's chief financial officer, Larry English. The guest speaker was Patrick Kelley, recently retired as senior Vice-President, International Brewing Strategy, Molson Inc.
2,500 visit Open House
Visitors, including a lot of future students, flocked to both campuses on Saturday, Jan. 31, to see Concordia in action.
Preliminary numbers indicate that 2,500 people attended displays and presentations of all kinds in the downtown Hall, VA and McConnell Buildings, and the Richard Renaud Science Complex in the west end.
Pina Greco, on behalf of open house planning committee, wants to thank everyone who poured energy into this wonderful showcase of Concordia
Planning for next year has already started. Open House will be held on Feb. 5, 2005.
Concordia active at CASE
Concordia was front and centre at the CASE (Council for the Advancement and Support of Education) District I conference, held from Jan. 24-27 in Boston. District I groups fundraising, alumni and communications professionals at U.S. and Canadian universities and colleges in the northeast.
Marketing Communications director Sandra Spina was Communications track chair for the conference. She co-chaired the newcomers' communications session and a session titled "Creative Publications on a Budget."
Lauren Gould was one of only four new advancement professionals to be honoured with the Rising Star Award (see CTR, Jan. 15). Vice-Rector Institutional Relations and Secretary-General Marcel Danis teamed up with co-ordinator of Media Relations in Public Affairs Chris Mota to lead a two-hour session called "Communications in Crisis: An Integrated Approach." It explained how the university co-ordinated its communications thrust with the advancement, alumni, recruitment and University Communications teams during a difficult period of campus controversy.
Managing Editor, Advancement Communications, Howard Bokser co-chaired a session called "Who's the Boss?" on the "ownership" of alumni magazines.
Concordia also did well in the publications awards. Marketing Communications picked up gold for the image campaign transit ads and a silver award for the campaign print ads. Internal Relations and Communications (IRC) won a Bronze for the 2001-02 Rector's Report. IRC was invited to be part of the judging team for the upcoming CASE Circle of Excellence Awards (all districts) in the web category.
Order of Canada for alumni
Congratulations to two distinguished alumni on their having been named to the Order of Canada on Jan. 28.
Jonathan Wener (BComm 71), who was named a member, is chairman and CEO of the Canderel Group. He founded the Défi Corporatif Canderel, the yearly corporate run for cancer research, in 1989, and has given personal support to many organizations, including Concordia.
He has been on the Board of Governors since 1995 and head of the Board's real estate committee since 1996. He was a volunteer canvasser for both of the university's capital campaigns and remains involved in fundraising. Jonathan received the Commerce Award of Distinction from the John Molson School of Business in 1991 and the CUAA's Humberto Santo Award of Merit in 2001.
David Bercuson (BA 66, LLD 98) was named an officer of the Order. One of Canada's most respected historians, authors and commentators, he is a professor of history at the University of Calgary and director of its Centre for Military and Strategic Studies.
He has written many popular books on Canadian military history, and has been active within several professional organizations, including the Canadian Historical Association. He received an honorary doctorate from Concordia in 1998 and the J.B. Tyrrell Historical Medal from the Royal Society of Canada in 2002.