Knocking at the Dore
Stingers men look for basketball championship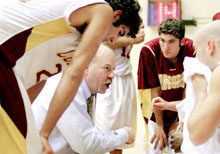 When a team wins 20 of its first 25 basketball games, you know things are going well. That is certainly true for coach John Dore and his Concordia men's team. The Stingers (11-3 in league play) are the ninth-ranked team in the nation and stand second in the Quebec league standings, just behind the number-2-nationally-ranked Laval Rouge et Or.
There has been a buzz around the Loyola Gym all year. Large crowds have seen some top-notch action, especially against rival Laval.
All three league losses have come at the hands of the Rouge et Or, including a narrow 65-60 defeat last Friday night before a raucous crowd in Ste. Foy.
"We were up by two points with a couple of minutes left, but just couldn't quite hold on," Dore said. "Laval is a strong, experienced team. They don't panic when things get tough."
Dore, who has coached the Stingers since the 1989-90 season, insists that the Stingers will make a solid run for the championship even though they have only beaten the Rouge et Or once this season (an impressive 83-69 win on Nov. 28 of last year).
"We know we can't take any team lightly, but we expect to play Laval in that final playoff series," he said. "We have good character on the team and we're more experienced than we were last year." Dore says his job still presents challenges even though he's been at it almost 15 years.
"I like what I do and I love to be at practice with the guys," he said. "Our coaching staff makes sure we have a very positive working environment here at Concordia.
"Each season presents different challenges," he continued. "Because you have to adapt to the makeup of your team, which changes from year to year. Now that we're more mature we learn to get over hurdles faster and move to the next level."
Dore likes his team's chances and points to the leadership of many players, including captains Daniel Lacasse and Philippe Langlois, as well as strong play from Jon Dresner, Patrick Perrotte, Chris Blackwood, Ben Sormonte and Donal Corkum.
Dore has taken the Stingers to the national championship tournament eight times. He won the national crown in 1990 and placed second in 1995.
In the fall of 1995, he was named University Coach of the Year by the Foundation for Quebec University Athletics. In 1993 and 1994, he was named the outstanding coach in the Quebec Student Sports Federation conference. In 1991, he was named Men's Basketball Coach of the Year by the Canadian Interuniversity Athletic Union.
Dore has also been in charge of several national teams, including Canadian entries at World University Games (Universiade) and the Maccabiah Games. As well, he was president of the National Association of Basketball Coaches of Canada and an international committee member of the National Association of Basketball Coaches, U.S.A.