Two artists from the Prairies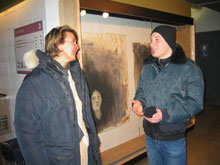 In the photo above, painter Eleanor Bond, a new tenure-track professor in Studio Arts, is talking to visiting speaker Adrian Williams. Williams drew about 60 people to a studio in the Visual Arts Building recently for a presentation about the Royal Art Lodge.
He is a founding member of the Lodge, an internationally known collective of young artists in Winnipeg. He showed images, and talked about the group's work and why he eventually left. The Lodge is currently on a tour that includes New York and Europe.
Bond is herself from Manitoba. She has influenced a generation of artists in her use of the tradition of landscape painting as a forum for discussion.
She has been teaching since 1988 and was artist in residence for the MFA Painting Studio at Concordia University in 2002-03.
Highly regarded internationally, she has had solo exhibitions at the Musée d'art contemporain de Montréal, the Museum of Contemporary Art in Toronto, the Winnipeg Art Gallery, YYZ in Toronto and the Museu de Arte Moderna de Sao Paulo, Brazil, among others.
Articles about her work have been published in Canadian Art, Parachute, Border Crossings and C Magazine.