Building envelope research puts us on the map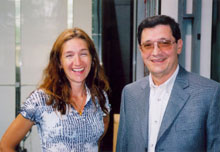 After thousands of leaky condo units in the Vancouver area developed serious water damage several years ago, mainly due to poor design, their owners spent a total of $1 billion on repairs.
Now Concordia building engineers are leading a $2-million research project involving three universities and 10 industrial partners that should help reduce the incidence of such catastrophes.
Principal investigator Paul Fazio, a professor in the Department of Building, Civil and Environmental Engineering, says this project "establishes Concordia as the major location in Canada to do extensive research on the building envelope, and to bring about innovations."
He explains that the building envelope refers to the skin of the building. It separates the indoor environment from the outside, and includes the walls, roof, windows and doors. This study will focus on the envelope walls.
"The specific objective of this project is to study the wetting and drying characteristics of walls that are subject to small leakage failures," explains Assistant Professor Dominique Derôme, who is also involved in the project.
The key to whether a wall will survive a leak or suffer serious damage hinges on whether it can dry out before it gets wet again. (In Vancouver, a number of design flaws allowed rain to get into the envelope, and to stay there.)
The study will be done at Concordia's Building Envelope Performance Laboratory. In this 280-cubic-metre (10m x 4m x 7m high) chamber, a variety of environmental factors, such as temperature, air moisture, simulated precipitation, and simulated solar radiation, can be modified. Inside the chamber, the investigators will construct two two-storey huts with different types of walls, and vary the environment around them.
In one series of tests, the hut will be built according to Montreal-type construction practices, and subjected to the hot and cold, wet and dry extremes of the Montreal climate.
In another series, the hut will be built according to Vancouver-type construction practices and exposed to a wet Vancouver-type climate with moderate temperatures.
Thirty-one different types of wall assemblies, using different types of panel materials, such as plywood, fiberboard, and oriented strand board (OSB), vapour retarders, and insulation materials, will be tested under these varying environmental conditions. Moisture or rain will be allowed to penetrate the walls through joints such as interfaces between walls and windows.
At the end of the five-year study, in 2008, says Derôme, "we'll be able to advise industry which assemblies work better. We hope to provide some design guidelines to the industry on how best to use each of these panels."
Several project partners, such as the Canadian Wood Council, will be able to disseminate this information to people in the building industry. The study's results will apply to new wood-frame residential and commercial buildings, prefabricated wood structures, and renovations.
Buildings are very complex systems, Fazio observes, and it is important that renovations be done properly. "Sometimes mistakes are made," he adds. For example, changing one factor, insulation, can create new problems, including moisture buildup.
Along with Fazio and Derôme at Concordia, study participants include an occupational hygienist specialized in mould, Karen Bartlett, of the University of British Columbia, and Yves Fortin, a Laval University forest engineer specializing in wood science.
The study is funded by an $800,000 NSERC grant, $505,000 cash from industry, and over $700,000 in-kind from industry. Industrial partners, like Forintek, will carry out extensive material tests complementary to the work done at the university. Derôme, who is an architect as well as having a PhD in building engineering, says that Concordia has become the Canadian leader in building envelope research because of the existence of the Centre for Building Studies and the program of building engineering.
Fazio, a structural and building engineer, founded the Centre and the educational program, which takes a holistic approach to buildings, in the 1970's. Fazio was also instrumental in acquiring funding and developing the lab, which opened in 1996.
"The type of work we can do in this lab is unique in the world," Derôme said.