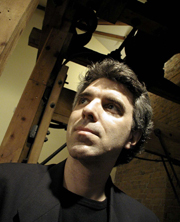 Robin Bargar, new president of Hexagram.


Photo by Christian Fleury


by Frank Kuin

Hexagram, the brand new Institute for Research and Creation in Media Arts and Technologies created jointly by Concordia and the Université du Québec à Montréal, has formally indicated it is in business by announcing its first partnerships with industry players in the world of digital media.

At a flashy press conference in Montreal this week, Daniel Lamarre, chairman of the board of Hexagram, said the institute has signed new contracts with almost a dozen companies and non-profit organizations. These will jointly pursue or fund Hexagram's research projects in creative media applications.

"Hexagram will achieve an international reputation within a matter of years," Lamarre predicted, praising the institute's growth. Hexagram, which is autonomous from the founding universities, was created late last year.

Partnerships in creation

Among Hexagram's first partners include Quebec's Big Films Inc. and the Giant Screen Consortium, who will join forces with Hexagram's researchers in improving technology for three-dimensional images on the giant movie screen.

A partnership has also been established with McGill University's Centre for Interdisciplinary Research in Music Media and Technology (CIRMMT), which should strengthen Hexagram's music component. Other partners include Sun Life Financial and the Daniel Langlois Foundation for Art, Science and Technology.

In addition, new funding partners have been signed up, including Quebec's Fonds de la recherche sur la société et la culture (FQRSC), which is contributing $1.3 million. Economic Development Canada, a federal agency, will contribute $2.8 million, bringing the total amount invested so far in Hexagram to about $30 million.

"Hexagram has stood up and is beginning to learn how to walk," said Robin Bargar, the institute's new president and general director. His appointment, hailed as lending an "international aura" to Hexagram, was also formally announced by Lamarre.

Bargar, an American composer and producer specializing in applied technology, joined Hexagram this summer, moving to Montreal from Chicago.

"Hexagram is unlike any other research institute in North America," Bargar said. It will strive to bring together artist-researchers, academics and industry. It should be "the missing link between the creative world and the industrial world."

Indeed, the institute plans to become a conduit for creative ideas in digital media, ranging from virtual 3-D characters to fabrics with computerized sensors that can be applied in business tools.
Hexagram's artist-researchers — 60 professionals and 250 graduate students, many of them Concordians — are actively engaged in such creative experiments with digital technology. But while collaborations between universities and industry in fields such as sciences and engineering are common, ideas from the arts don't flow easily to the industrial world.

Unjustly so, according to Bargar: "Artists create many other things when they also create their art works with technology," he said. "They create a deep understanding of how the technology functions.

"We need to be able to communicate clearly to industry the value of this knowledge, and how the Quebec economy will be able to use that talent for art creation. Our job is to help industries make those discoveries."

By providing an "integration environment" for industry and academics to build and exchange "applied creative knowledge," Hexagram is trying to "invent a kind of culture," Bargar added.

New research centre

Hexagram plans to undertake research projects in collaboration with industry on a basis of conventional sponsored research as well as joint ventures. Part of the funding Hexagram has received will be used to pay for a research centre within Concordia's new building for engineering/computer science and the visual arts.

In fact, Bargar sees added potential in the combination of the two Faculties under one roof. Back in Illinois, he was involved in creating joint courses between the Art Institute of Chicago and DePaul University, a strong engineering school. "I could see that emerging at Concordia," he said. "I'm personally very interested in that, and I think Hexagram may help show the way."