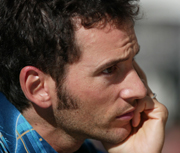 Writing is a matter of keeping distractions to a minimum: Steven Heighton

Photo by Andrew Dobrowolskyj

by Bronwyn Chester

While the photographer was getting Steven Heighton to pose, Con-cordia's new writer in residence was asking him for advice on translating Le Bateau ivre, the title of a poem by Rimbaud.

Heighton's first novel, The Shadow Boxer, was considered a Best Book of 2000 by the Globe and Mail, while his collection of poetry, The Ecstasy of Skeptics, was nominated for the Governor-General's Award in 1995. Beyond being a gifted novelist, short-story writer and poet, Heighton is also a translator.

He can read French, but not speak it. After completing his graduate and undergraduate studies at Queen's University, Heighton learned to read French literature with a dictionary. Now he's thrilled to be in Montreal at least one day a week, coaching students in Concordia's creative writing program.

The settings for The Shadow Boxer include Sault Ste. Marie, Lake Superior, Toronto — and Cairo. The protagonist, Sevigne Torrins, spends time in Cairo visiting his mother, who has left The Soo to pursue a life of comfort with a new husband. It's not a city Heighton knows except through books, but it works.

Cairo notwithstanding, Heighton, now 40, has travelled widely. At age 18, he set off westward from Toronto, where he spent part of his childhood (the other part was in Red Lake, northern Ontario, where his father taught English and his mother "wrote letters to appease the relatives regarding her marriage to a non-Greek"), to travel in Australia and Europe, busking along the way. Later, he travelled in Asia, including Japan.

These days, travel involves a weekly trek by train from Kingston. This is Heighton's first time as writer in residence at a university, and he plans to give readings, conduct master classes and work with students' manuscripts.

He already has a lot of experience in the exchange of criticism with fellow writers, such as Concordia English professor and novelist Kate Sterns, who was on the writer-in-residence selection committee.

"Steven is a tremendously generous and sympathetic person who's engaged in the everyday struggle to write something good," she says.

"He's going to see the best in students' work and help them bring it out."

That likely won't be by e-mail or fax, however, as Heighton has access to neither in the home office where he spends six hours a day working on his next novel, which he described as "an Arctic story set mostly in Mexico," and a collection of poems, some his, some translations of favourite poems fom the Greek, French, and Latin.

His decision to limit the technology in his life isn't a matter of principle, even though some of his friends call him a Luddite. "It's just a question of keeping the distractions to a minimum."

"I try to keep life as simple as possible and as physical as possible. Food, sex, music and dancing are the visceral antidotes to the chaotic state of my brain," he said, laughing.