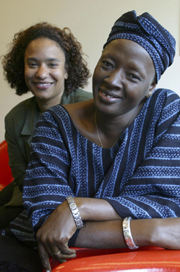 Cilia Sawadogo (left), and Kadiatou Konate, co-winners of the 1995 Vues d'Afrique Festival animation prize. Animation is an excellent educational tool for sharing the tales, customs, culture and realities of Africa, says Konate. Photo by Andrew Dobrowolskyj

The film Malasadio is about the friendship between a hippopotamus (below) and the village that adopts him.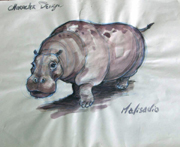 by Dana Hearne

Ever since the 1995 Vues d'Afrique film festival in Montreal, Cilia Sawadogo has wanted to collaborate on a film project with Kadiatou Konate, a filmmaker from Mali, with whom she shared the festival's animation prize.

Sawadogo, a professor in Concordia's Mel Hoppenheim School of Cinema, was able to make that dream come true this summer, thanks to funding from Vues d'Afrique. "Without that funding," Sawadogo said, "Kadiatou's chances of making her film would have been non-existent."

Konate, who works at the Centre National de la cinematographie du Mali, turned to filmmaking in 1983 after she had finished graduate studies in Senegal. She has since made three documentaries and three animation films, and is the first African to win Le Prix de Jury at Cannes. "As far as I know," Sawadogo said, "Kadiatou and myself are the only two female African animation film directors in the world."

Konate's primary goal is to educate, and she sees film as an excellent educational tool. "The animation genre is an excellent medium for children, and I want to educate all my African children [meaning all the children of Africa, not just her own three] and myself about the tales, customs, culture and realities of Africa."

She sees her documentaries as important sources of knowledge for adults, "educating them about the realities of our world, about social issues, including literacy and la condition feminine. They also help to create a program for change, as well as allowing others to get to know Africa."

Cilia Sawadogo is the consultant on Konate's two-month project at Concordia and helps with the script and the drawings, while third-year Concordia student Guillaume Turcotte is involved in doing the drawings for the storyboard. The film is called Malasadio and is based on a Mali tale of the friendship between a hippopotamus and the people of a village, who adopt him.

"It's a moral tale, because the demise of the hippopotamus is brought about by a foreign hunter who kills him, showing that it's human beings who always spoil things."

Being here means a lot to her. "I'm doing the storyboard with a terrific team, and lots of people are interested and happy to know these African stories." As for Cilia Sawadogo, Konate considers her "an amazing person. Look at what she has been able to do with her life! It is a ray of hope to see what she has been able to do."

Sawadogo, who grew up in Burkina Faso, hopes that this collaboration will be the start of further collaborations with Mali, "especially in animation, because it hardly exists there or elsewhere in Africa. No one is teaching it, and though there are film institutes in Africa, there are no film schools."

Catherine MacKenzie, chair of the Mel Hoppenheim School of Cinema, says that this collaboration comes at an exciting time for the School, which is in the process of finalizing agreements with institutions in Cuba, Germany and the People's Republic of China.

MacKenzie said that the Konate-Sawadogo project is grounded in the same principles. "Our faculty and students have a lot to offer in terms of filmmaking as an art, and a lot to learn by engaging with artists from other countries."