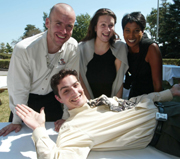 Axel Hulsemeyer (left) is a new hire in Political Science. Among staff who joined the Arts and Science barbecue held at Loyola during a day of orientation were Andrea Rodney, Shelley Sitahal and Jean-Patrick Dorais (front), from the Office of Research Services. Their director, Benoit Morin, explained the administrative support for research to new faculty members at four orientation sessions held August 26-29.
Photo by Andrew Dobrowolskyj

New tenure-track professors in Arts and Science

Meir Amor (Sociology and Anthropology) is a native of Israel who has considerable teaching and research experience there and in Canada, including this past year at Concordia. He got his PhD from the University of Toronto in 1998, writing his thesis on state persecution.

Lori Beaman (Sociology and Anthropology) comes from the University of Lethbridge, where she spent five years. She specializes in law and society, deviance, the sociology of religion and gender issues, has a law degree and a PhD in sociology from the University of New Brunswick.

Marco Bertola (Mathematics and Statistics) specializes in mathematical physics, with an emphasis on differential geometry. He has a PhD from SISSA-ISAS, in Trieste, Italy, and did a postdoctoral fellowship at the Université de Montréal that included research at Concordia.

Paula Bouffard (Études françaises) specializes in French linguistics with a focus on computer technology. She has been an LTA in the department for three years and is finishing her PhD at UQAM.

Richard Courtemanche (Exercise Science) specializes in how humans learn and perform motor activities. He had a postdoctoral fellowship at MIT, and his PhD is in neurological sciences from the Université de Montréal (1999).

Dana Dragunoiu (English) specializes in modernist, postmodernist and contemporary British and American literature. She received her PhD from the University of Toronto in 2000, and spent the past year as a postdoctoral fellow at Princeton.

Matthias Fritsch (Philosophy) is a specialist in 19th- and 20th-century European philosophy, particularly its history and ethics. A native of Germany, he received his PhD in 1999 from Villanova University. He spent the past two years at Miami University of Ohio.

Hugh Hazelton (Classics, Modern Languages and Linguistics) has been a part-time lecturer and LTA in the department since 1988, where he has taught Spanish language and translation. His PhD is in comparative Canadian literature from the Université de Sherbrooke (1997).

Axel Hulsemeyer (Political Science) is from Germany, and is a specialist in international relations. He got his PhD last spring from the University of Calgary, where he also taught international relations and the international economic order.

Susumu Imai (Economics) comes to Concordia from Pennsylvania State University. He received his PhD from the University of Minnesota in 1998.

Adrian Iovita (Mathematics and Statistics) will join Concordia in January from the University of Washington, where he is an assistant professor. A native of Romania, he got his PhD from Boston University in 1996. He specializes in problems related to the p-adic cohomology of motives.

Michael Lipson (Political Science) spent the past year at Princeton, teaching international relations and international security. He got his PhD in political science from the University of Wisconsin-Madison in 1999.

Philippe Merle (Chemistry) is an organic chemist who specializes in the chemistry behind metallic reactions. He got his PhD in 1997 from the Université Montpellier in his native France.

Toshihiko Mukoyama (Economics) is a specialist in economic growth, unemployment and income distribution. He received a PhD from the University Rochester in June.

Viviane Namaste (Simone de Beauvoir) spent the past three years as a project coordinator for Cactus, a needle-exchange program aimed at stopping the spread of AIDS among Montreal prostitutes and drug users. Her PhD is in semiotics from UQAM (1996).

Norma Rantisi (Geography) is an expert in urban geography. She recently completed her PhD at the University of Toronto.

Dana Sajdi (History) specializes in the history of Islam between 1000 and 1800. She got her PhD last year from Columbia University. Fluent in Arabic, Persian and Turkish, she is currently studying Urdu.

Arusharka Sen (Mathematics and Statistics) is focusing his research on survival analysis and non-parametric curve estimation. He has a PhD from the Indian Statistical Institute and taught at the University of Hyderabad, but spent the past year at Michigan State University.

Rae Staseson (Communication Studies) has been an LTA in the department for three years, teaching television and video production, and writing for the media. She has an MFA from Rutgers.

Jean-Philippe Warren (Sociology and Anthropology) is a specialist in Quebec society. He was an assistant professor at Université Laval, and got his PhD earlier this year from the Université de Montréal.

New tenure-track professors in the John Molson School of Business

Mehdi Farashahi (Management) has an aviation MBA and was an aerospace engineer with in the airline industry for 16 years. He has taught cross-cultural management, and corporate strategy at McGill and Concordia for several years. He is pursuing a the joint PhD in management at several Montreal universities.

Bianca Grohmann (Marketing) has a PhD from Washington State University, and her research focuses on consumer psychology.

Dowan Kwon (Decisions Sciences/MIS) is finishing a PhD in information systems from Case Western Reserve University. He worked for a business consulting firm for several years, where his projects include the design of information systems for a major crdit card company in South Korea.

Claude Marcotte (Management) earned his PhD from UQAM. His interests are international dimensions of entrepreneurship and small-business management.
Imants Paeglis (Finance) received his PhD from Boston College in the spring. He did his undergraduate studies at the University of Latvia, then pursued graduate studies in Claremont, California.


---

New professors learn what works in the classroom

Orientation sessions were held over four days in late August for 53 new tenure-track faculty members. For many, it was their introduction to Concordia, and to the technical facilities, library privileges and administrative support available to them, including a new mentoring program.

They even got an introduction to their own students via Ann Kerby, Director of Advocacy and Support Services. Over the past six months, Kerby and her staff have held focus groups to ask students what works in the classroom and what doesn't, based on their own experiences.

Here's what some international students said:

"In my home country, people never speak up at university. Students here often interrupted the class to ask questions."

"I realized that as a student on a limited scholarship, I had to complete my program quickly, but it was simply too much, what with the adjustment process."

"I found that on occasion, when discussing a reading that was clearly the product of a Western thinker, the professor would take it for granted that we all came from a similar position."

Kerby said that although Concordia has about 2,000 students defined as "international" (landed immigrants or on student visas), there are many more students at the university who are also struggling with language and culture.

Her advice: provide detailed lecture notes, offer study tips, explain jargon and use visual aids. Best of all, she said, professors can help the shy student make a personal breakthrough simply by speaking kindly to him or her. "Treat me as an individual," these students told her staff. "Talk to me!"