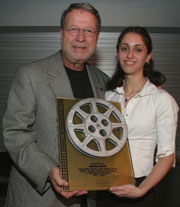 Mel Hoppenheim presents the award for outstanding graduate in film production to Anna Fahr at a party in the School of Cinema on April 11.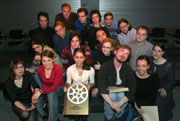 Some of the winners at the School of Cinema's awards night.

Photos By Andrew Dobrowolskyj
Year-end awards to students in the Mel Hoppenheim School of Cinema were given out at a party on April 28.
Here are the winners:

Film animation: Maika Houde, Kevin Chung Chun Choy, Kimberley Anderson, Jacob Aspler, Benoît Chagnon, Alison Davis, Guillaume Forest, Elise Simard, Philippe Tardif, Fabiola Raffo, Antoine Tavaglione, Simon Durocher, Eric Lepage, Joanna Czadowska, Alexandru Dragu-tescu, Louis Julien Poitras, Craig Firsch, Félix Dufour-Laperrière, Kam Man Leung, Masa Milovanovic and Jean Martin Casseus.

Film studies: Christopher Meir, Mark Shallow, Isabelle Lavoie, Geneviève Schetagne, Stephanie Patrick, Julie Vaillancourt, Jodi Ramer, Bruno Dequen and Jessica Tremblay.

Film production: Anna Woch, Emily Frazier, Häkon Bris-eid, Jean-François Cyr, Anna Sikorski, Amber Goodwyn, Christine Roy, Annick Blanc, David Mollet, Félix Lajeunesse, Cliff Caines, Daichi Saito, Santiago Gonzalez Jelincic, Van Royko, Alfonso Cortina, Shane Geddes, Mathieu Grondin, Edouardo Menz, Stephanie Loveless, Kathryn Gilkes, Ian Lagarde, Nurjahan Akhlaq, Erahm Machado, Simone Rapisarda, Kara Blake, Anastassia Bourlakova, Sheila Pye, Alexis Landriault.

The Mel Hoppenheim Award for Outstanding Overall Achievement in Film Production went to Anna Fahr. Film studies professor Peter Rist said Anna was accepted into the program on the basis of an excellent interview and portfolio, although she had no previous film work to submit.
While this is unusual for the School, she fulfilled her early promise. Now she plans to visit Iran, and make a documentary about three generations of her extended family.

The cinema awards including a range of awards, some funded directly by faculty and staff.

The School is fortunate to have pledges from corporate and individual donors of $22,300 in scholarships, and corporate donors have given film and services as prizes. There are also three personally endowed awards, given by the family and/or friends of former students.

This help is greatly appreciated, because the cost of making films is very high, and financial support is significant for young people living on limited incomes.

Meanwhile, the awards keep coming in.

Last week, one of the School's current MFA students, Korbett Matthews, won the top award in his documentary category at the big Hot Docs festival in Toronto for a film he made as an undergrad in film production at Concordia called Devouring Buddha.

Félix Lajeunesse, who won the School's J.A. De Sève Award for his excellence in film production, will also be getting the NATP, the award given by the Academy of Canadian Cinema and Television.

The NATP offers an apprenticeship in a professional environment to promising students, and Félix's undergrad film, Electrinité, is described as "amazing."