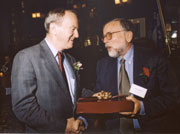 Geography Professor Brian Slack, 40 years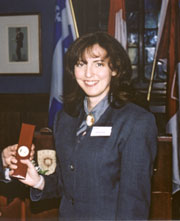 Oksana Dykyj, head of Visual Media Resources, IITS, 20 years.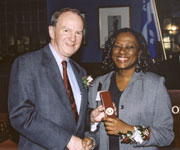 Faye Corbin, Assistant, Government Information Services, Library, with Chancellor Eric Molson, 20 years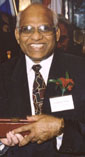 Umanath Tiwari, part-time instructor in Mathematics and
Statistics, 30 years


Joanne Dolan, Processing Clerk, Library, 30 years

Photos by Christian Fleury
38th Annual Long Service Reception
One veteran of the annual long-service receptions recalled when it was an intimate dinner at the Ritz, but those days are long gone. This year's edition, held May 11 at the University Club of Montreal, was a lively cocktail party at which everyone seemed to know everyone else, despite the large numbers.

The Long-Service reception honours employees of the university in five-year increments, so don't feel slighted. Your turn is bound to come around soon. And don't be like the employee who neglected her first congratulatory letter. "When I found out what I'd missed, I had to wait five years, but here I am at last!"

20 years

Henri Abran
Arshad Ahmad
Claude Bˇdard
Ken Bissonnette
Leo Bissonnette
Abraham I. Brodt
Benson Brown
Virginia Bruce
Emily Jean Carter
Faye Corbin
Carlos de Sousa
Oksana Dykyj
Ahmed Kamel Elhakeem
Pierre Frégeau
Kalan Rose Gardiner
Angela Ghadban
Diane Hastings
Linda Healey
Donna Hum
Bakr A. Ibrahim
Francine Kolodychuk
Andrzej Krysztofowicz
Martine Langevin
Jean P. Lauly
Cynthia S. Y. Law
Anh Tuan Mai
Andrew McAusland
Cathy Mullen
Maria Nochera-Ouimette
David L. Paris
Kevin Penny
Christine Petcoff
Kenneth Peters
Johanne Plamondon
Dorothy Pocock Goldman David Pukteris
Vincent Quatela
Ramesh Rambaran
Alphonse Roaldi
Lorna Roth
Carlos-Luis Santana
Juan J. Segovia
Geoffrey Selig
Mostafa Showleh
Harold J. Simpkins
Elizabeth Steinson
Larry Tansey
William Taylor
Hal Thwaites
Rita Umbrasas
William Wong

25 years

Angela Alleyne
Michel J. Bergier
Claude Bernard
Cynthia Canavan
Josie Colace
Marvin Cooper
David Duchow
Anne Marie Ferrari Ursula Hakien
Adel M. Hanna
Lee Harris
Chris Hodge
Ian J. Irvine
Christopher Jackson Henry J. Kovalcik
Henry Lemmetti
Sally Livingston
Mia Massicotte
John McAuley
Aileen Gemmell Murray Ted Nowak
Freda Otchere
David Pariser
Brian Parry
Brent Pearce
Kathleen Perry
Anne Pollock-McKenna John Raso
Enn Raudsepp
Darleen Mary Robertson Susan J. Russell
Richard Schmid
Lisa Alexandra Serbin Eckhard Siggel
Stanley Swiercz
Lise Tavares
Linda Tees
Taeko Teesler
Patricia Anne Thornton Kathryn Tweedie
Pierre Veronneau
Renata Wirska
John Wojciechowicz Edward Wong
Danny Yates
Nancy Yen
Victor Young

30 years

Paul Albert
Marion Alleyne
Bryan Barbieri
Robert Bertrand
Abraham Boyarsky
Anne Brown-MacDougall Gheri Celin
Joanne Dolan
Charles Draimin
Irene Fernandez
John W. Fiset
Sharon Frank
Huy Kinh Ha
Leslie Hughes
Gary Johns
Narinder Kapoor
Zohel S. Khalil
John W. Locke
Robert Lortie
Bhupinder Mangat
P. Raymond Martin
Sharon McLean
Elaine Muise
Stanley Nachfolger
Robert J. Oppenheimer
Peter E. Regimbald
Margaret Robertson
Giuseppe Ruscitto
Norman S. Segalowitz Charlotte Serruya
George D. Short
Penny-Anne Soper
Umanath Tiwari
Roger Tyrrell
Paul Widden

35 years

Peter Bird
Gary McIntyre Boyd
Josef Brody
Ermine V. E. Campbell
Louise E. Carpentier
Nicolet Cellucci
Timothy D. Clark
Anthony Costanzo
Marcel Danis
Bipin C. Desai
Helmut Famira-Parcsetich Stanley French
John L. Hill
Calvin Kalman
Attila Keviczky
Jacques Langevin
Gaston Laurion
George Nemeth
Winston Nicholls
Dennis O'Connor
James Ruddy
Mary Silas
Marilyn Sims
Srikanta M. N. Swamy
Robert Turnbull
François-René Ullmann
Vladimir Zeman

40 years

Shafiq Ahmad Alvi
Brian Slack
Tariq Srivastava
Jane Stewart