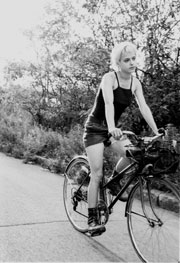 Julie in a scene from Roy Cross's feature So Faraway and Blue.
Photo by Cheryl Bellows

by Matthew Walls

So Faraway and Blue is Roy Cross's first feature film, a project that took him six years and most of his bank account to finish.

Now, five years after he started the project, it will open tomorrow night at the Eaton Centre.
Cross, who teaches in Concordia's Mel Hoppenheim School of Cinema, produced, directed and wrote the screenplay for the movie. It was filmed over 15 days in 1998 in the St. Henri district of Montreal for only $40,000.

After obtaining sizable grants from the Quebec Arts Council and Sodec, as well as other film agencies, Cross was able to raise the $110,000 needed for post-production editing and sound mixing. The film had a screening at the Montreal World Film Festival in 2001.

So Faraway and Blue is a simple film, made so by a limited budget and a small crew. As Cross said in an interview, there are no car chases, no crowded café scenes, no stunts or complicated locations.

In fact, throughout the movie, the St. Henri district breathes a desolate air of abandonment, its factories silent, its streets deserted. It is a striking parallel to the lives of four of its inhabitants, who live among their memories.

The camera follows Julie, a teenager in Montreal, as she observes the lives of others, and tells of being abandoned by her father, and later, by her mother, too. When she meets Hank, who, like her, is looking for someone from the past, Julie crosses the threshold from observer to a place where desire, courage and love intersect.

Cross left his native province of Saskatchewan for Montreal in 1994, planning to do a master's degree in film studies at Concordia and make a feature film. Like the characters he created, he lived in St. Henri.

In the film, Hank, like Cross, had a dream in which a former girlfriend died. Although the movie was inspired by this dream, once the crew started filming, it turned into something quite different.

"The filming of the script changed a bit. The emphasis shifted onto Julie, and that's due to the fact that the camera fell in love with the actress. In the editing, we had to write the film again, which made for interesting editing, for sure."

An independent filmmaker and, until now, an experimental one, Cross found making So Faraway and Blue a challenge, not just for financial reasons, but also because he had never made a traditional dramatic film.

"Until this feature, I'd been making personal documents, non-narrative, non-dramatic films. It was just so difficult get a venue for it. When I first started making movies I didn't care if no one saw it. As I started getting a little older it became more important for people to see it. So I had to pick a genre that had exhibition qualities."

So Faraway and Blue is the closest thing Cross has made to his own story, but even here he sometimes broke his own rules. "As hard as I tried to make it straight, it's still got a lot of zigzags, which is good, because it means it's still my film. I'm glad those experimental influences and roots are still there."

The film is being distributed by Cinéma Libre, which landed the movie a one-week run at the Eaton Centre, and Cross seems grateful for that.

"I'm guaranteed the one week, but the first weekend is critical. If it does well here, Toronto and Vancouver will pick it up. It's kind of cool. In some ways that's what I've always wanted, to have my film in the cinema."