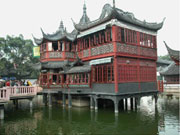 This photo, taken during the Faculty of Fine Arts trip to China, demonstrates how architecture blends with natural beauty at the Shanghai Gardens.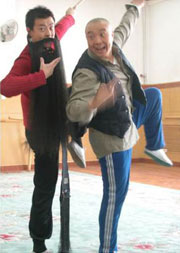 A student and instructor practise their moves at the Academy of Chinese Traditional Opera, in Beijing. The student is wearing a wig that goes with his character.
Photos by PK Langshaw

It started last summer, when a delegation from several major Chinese institutions visited Concordia. In November, a group from the Faculty of Fine Arts visited China. They were Dean Christopher Jackson, Associate Dean Liselyn Adams, chair of cinema Catherine MacKenzie, cinema professors Peter Rist and Christopher Hinton, and PK Langshaw, chair of the Department of Design Art.

They visited the Shanghai Animation Studio, the Beijing Broadcasting Institute, the Beijing Film Academy and China's Film Archives, but their primary host was the Academy of Chinese Traditional Opera, whose name belies its current activity, according to Dean Jackson. While they are certainly maintaining the ancient arts, the teachers at the Academy are using all the new tools available to artists here, including digital animation.

The same is true of the Central Academy of Fine Arts, where the group from Concordia were floored by the range and depth of students' work. "The culture in general is just so rich," Jackson said.
Catherine MacKenzie said, "It was an exciting trip, for any number of reasons, but most importantly because we were able to determine that there were all kinds of possibilities for collaboration between institutions in China and our cinema programs.

"We were excited by the art production we saw in China, and want to begin as quickly as possible to begin to work with the faculty and students we met.

"We were excited to learn that Concordia's Mel Hoppenheim School of Cinema School and the Faculty of Fine Arts are highly regarded among the institutions we visited — and not simply known, but known for the quality of our work. It was gratifying to be treated with such respect and admiration.

"[We had] a real sense of envy for the place that the arts are given in China; we were staggered by the facilities which are made available to students, and the seriousness with which their activities are taken."

PK Langshaw echoed these sentiments about the Academy of Traditional Opera and the Central Academy of Fine Arts, in Beijing. While it is a longstanding institution, CAFA moved into an extraordinary new complex of buildings, green space and facilities for teaching both the traditional and digital arts.

She also liked what she saw and heard regarding teaching. "The professors we met were progressive and open, and they welcomed ideas for collaboration," she said. "The Academy has strong curricula and program initiatives, including extensive teaching residencies for visiting professors in all areas of the visual arts.

At the Academy, she was was intrigued by the storytelling, elaborately symbolic gestures and sound, intricate costumes and rigorous athleticism. "The opera academy has much to offer us in traditional performance, but they are inviting us to provide the catalyst for exploration into hybrid forms of performance and related digital arts."

Langshaw said that when she first arrived in China, she felt exhilarated but "ungrounded," as there was so much to take in _ language, culture and environment — but she could also see that much change was going on in the cities. "Between Christopher Hinton and myself, we probably have 2,000 photos, because our cameras were with us all the time."

Langshaw, who specializes in text-based design and has long been fascinated by the rich traditions of Chinese calligraphy, added that she was able to take in a spectacular calligraphy and seal exhibition at the Shanhai museum.

Agreements were signed both with the Academy of Chinese Traditional Opera and the Beijing Film Academy, and if finances ever permit, exchanges may result. The possibilities are many: exchange of faculty members (teaching, guest lectures and joint research), graduate students, exhibitions and performances. There was a return visit from Xiewei Song of the Central Academy of Fine Arts in Beijing to the Design Art Department on Dec. 6 to pursue the possibility of an agreement.