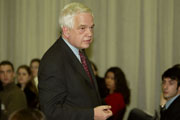 Minister of national defence John McCallun speaks to students at Concordia
Photo by Andrew Dobrowolskyj
by James Stairs

John McCallum, Canada's minister of national defence, says our nation's military, while facing new challenges, remains committed to the principles which make it respected worldwide. However, it must be given the financial resources to do its job effectively.

As a small group of anti-war protesters who braved the bitterly cold evening banged loudly on the front windows of the Bronfman House where the minister was giving his address, McCallum tried his best to articulate his department's policy to a largely skeptical audience.

He was giving the opening address to the 80 delegates attending the Canadian Political Science Students Association annual conference, held at Concordia University on Jan. 17-19.

"Our goals are now, as they have always been, to defend Canada, defend North America and to contribute to democracy overseas," he said.

The conference, titled Canadian Defence Policy in the 21st Century, brought political science students from across the country together for four days at Concordia to discuss issues surrounding the Canadian military and how its resources are managed.

McCallum, whose address changed venues at the last minute because of the anticipation of a larger protest, suggested that when the Cold War ended in the early 1990s, many people believed that Canada's military commitment would be diminished. This, he argues, is not true. "Since 1990, Canadian deployment has gone up. Free of communism, the world has actually become more dangerous."

Canadians have told him repeatedly that they want peace and recognize that a strong military can contribute to domestic security.

With new threats posed by terrorism, military policy must be altered to adapt to this new climate.
"We need to work on the development of infrastructures," he urged. He suggested that Canada's soldiers will work with local emergency organizations, training them how to better respond in the event of a chemical or biological terrorist attack.

McCallum also told delegates that further co-operation with the United States regarding the sharing of information and resources is necessary to defend North American borders. The goal, he said, was to provide homeland protection by having the two nations "work effectively together."

Another part of the domestic role of Canada's military, McCallum said, is disaster relief and community support. He cited the 1998 ice storm in Quebec Ontario as well as the floods in Manitoba as examples of how the army can help citizens in times of crisis.

Defence spending has to increase, he argued, in order for the military to effectively perform its function. "With what we have, we do well, but in terms of spending on the military, we are sixth in NATO and 14th in the world. Canada needs more money for equipment. We don't have to double the budget, but a 10-per-cent increase is realistic."

McCallum suggested that a restructuring of defence department spending priorities could provide the needed financing. "I'm an economist; I know about allocation and consolidation," he laughed, referring to his previous careers as both an economist and as the CEO of the Royal Bank.

Reserving the final part of his speech to articulate Canada's position regarding involvement in disputes outside of North America, McCallum said clearly that "Canada supports the United Nations."

Referring to Iraq, McCallum said that if the UN feels multilateral intervention is necessary, then Canada would participate because "it is our duty" to do so.

When aggressively questioned by a number of delegates as to whether Canada would support a United States invasion of Iraq that was not sanctioned by the UN, McCallum refused to speculate, stating simply that Canada had never "acted in a military manner without broad international consensus."

McCallum described the government of North Korea's statement that it would resume testing nuclear weapons as "a big problem." Resisting any comparison with the dispute in Iraq, he explained that North Korea's proximity to neighboring South Korea makes any military intervention "extremely risky." Diplomacy, he said, was the wisest course of action in this case and that "Canada is not a major player when it comes to North Korea."

Prime Minister Jean Chrétien has the last say, according to McCallum, whenever Canada engages in military activity. He did note that "Canada is committed to a peaceful resolution" regarding any possible military exercise, "but would not hesitate to do its duty and join the mission" if it were called upon to do so.

After the speech, delegates seemed bewildered about the emphasis of McCallum's address. "I was expecting more of an aggressive speech," Barbara Mauro, a Concordia political science graduate said. "I understood his position, but he didn't seem like he was really in control of the policy he was presenting.

"He really came off as an academic, not as someone who is leading our military forces. I found it surprising."