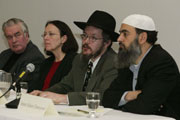 Panelists at Struggle and Harmony: Left to right are Dr. Donald Savage, Dr. Christine Jamieson, Rabbi Shlomo Mahn and Imam Salam Elmenyami.

Photo by Andrew Dobrowolskyj

by Barbara Black

Free speech, particularly around the sensitive issue of religion, was the subject of a panel discussion held at Concordia on Tuesday night. Although the panellists discussed the subject in the abstract, several audience members showed by their questions that they are living the issue on campus.

The speakers were Donald Savage, a historian who worked with the Canadian Association of University Teachers; Christine Jamieson, an ethicist and theologian; and two associate chaplains at Concordia, Rabbi Shlomo Mahn and Imam Salam Elmenyawi.

Dr. Savage, who is currently an adjunct professor at Concordia, provided some historical context for disputes on campus. In the early 19th-century, Christianity was important in Canada, but no single denomination predominated, so the first universities were public and non-denominational, with affiliated colleges and schools of theology.

However, becoming secular was not enough to ensure free speech, and one of the first student protests was by University of Toronto students against the fact that their university was virtually a department of the government.

"I don't think we've solved this question [of free speech] yet. Is shutting down opposition to your ideas the right response?" Dr. Savage asked. Weapons used by the left against the right can boomerang, and be used by the right against the left, he said. "The playing field will never be level, but it can only be challenged under the rules of liberal democracy."

Dr. Jamieson explored the meanings of the words "free" and "speech," and drew on the thought of a Canadian Roman Catholic theologian, Bernard Lonergan. Freedom can mean release from slavery or imprisonment, but it can also mean transcending necessity.

Speech is unique to human beings, and "it is speech that humanizes us." However, we are imperfect, and wrestle with meaning. Since speech is always between people, it puts us in the public realm, communicating with others.

Rabbi Mahn is an Orthodox Jew, raised in New York and educated there and in Israel. He works full-time as a chaplain to Jewish students at McGill and Concordia. He reminded his audience that religious institutions have not always favoured free speech.

On the other hand, speech and text have been extremely important to religious people. When the Jews realized they were going to be dispersed and would be a minority everywhere, they wrote their religious precepts into the Talmud. The person who believes his or her religion is the truth is serene in that knowledge.

Conventions around what can be said are constantly changing, Rabbi Mahn said, but by discussing your views with others, you not only begin to understand the other person, you better understand your own point view, and learn to defend your position.

Imam Elmenyawi was an electrical engineer by profession, but undertook religious studies and for the past 15 years has volunteered and provided leadership to the Muslim community of Montreal. Like Rabbi Mahn, with whom he shared a some light moments on the panel, he provides chaplaincy to students.

The imam said that all religions strive for justice, and it cannot be secured unless it is achieved for everyone. Free speech includes the right to express oneself and the right to be informed and inform others. Even in giving a religious message, the prophet Mohammed said that the message may be given, but the hearer must listen and decide if it is true.

"In the beginning was the Word, and the Word was with God," Imam Elmenyawi said, quoting a Christian gospel, but when we try to set the limits of speech, it can be a problem. The Qu'ran says we must speak in the proper way, not backbite; we shouldn't withhold information; we should encourage others to speak the truth. Religious believers should support one another.
Imam Elmenyawi said that according to Islam, you are free to speak, but you must face the consequences. If you establish that something you have been told is not true, you must hold the person accountable.

A student gave an example from a conversation between two of her friends and asked if it was an issue of free speech: a Muslim friend suggested to a Christian friend something hurtful about the historical Jesus. Dr. Jamieson saw this as "inherited discourse," not discussion intended to elicit truth.

Imam Elmenyawi reminded his listeners that Christianity and Islam have many precepts and prophets in common, and Muslims have protested insults against Christians, such as works of art that ridiculed religion.

In the case of the Nigerian riot that resulted from a flippant remark by a journalist covering a beauty pageant, which was raised by a student, both Christians and Muslims died, and this shameful occurrance resulted from "a lack of balance within the state" of Nigeria. Consistency in the application of rules is what is needed, said the imam, whether it is the state or the university.
A student who is active with Solidarity for Palestinian Human Rights said that Concordia's administrators have applied bylaws and codes selectively, to Jewish as well as to Muslim students. These are serious allegations, he said, and the administration's response was to dismiss the issues, but the true feelings of students can't be denied.

"We have been asking for an open, independent inquiry for three years," he said, and for the opening of files in the Office of Rights and Responsibilities.

"Last week the SPHR had to go to court because they were [unknowingly] holding an illegal demonstration. Obviously you're not going to ask for permission from the same administration you're demonstrating against." Rabbi Mahn said that while justice often slow and expensive, you can take such issues beyond the university to the civil court.

Is criticism of the state of Israel automatically anti-Semitic? a Muslim student asked. Imam Elmenyawi pointed out that many Israelis disagree strongly with their own government. However, discrimination of any kind is wrong. He feels Concordia's Board of Governors should have a Muslim member, and he knows that the Rector is trying to achieve this, but "even one person would not change the balance."

"Discrimination may not be intentional; people do not understand our culture," he said. "It is our job to bring it to their attention, and not to rest until these issues are addressed. I think the university is willing to sit down and work out these problems."

The next event in this series is a panel discussion on Monday, Feb. 10, at 4 p.m. in H-110 on Religious Traditions, Holy Days and Precepts: Opening a Window into your Neighbours' Practices.