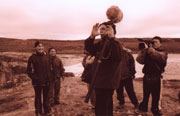 Daniel Cross teaching Inuit teens in northern Quebec
Photo courtesy of Daniel Cross



by James Martin

Daniel Cross may have literally built his film career on the downtown streets of Montreal, but these days you're just as likely to find him above the 60th parallel, miles from any paved roads.
The part-time instructor at the Mel Hoppenheim School of Cinema, and director of the documentaries S.P.I.T. (2001) and The Street (1996), is now working on a film with eight Inuit high-schoolers in the Kativik School Board of northern Quebec.

Cross says the National Film Board project, tentatively titled Inuit Teens, marks a return to the "community/social activist responsibility" which defined the NFB's "Challenge for Change" initiative in the late 1960s.

It's the project's philosophy which has lured Cross away from the métro stations and congested intersections of his first films, and into the isolated Canadian north.

"Documentary films not only engage me as a practitioner, but they inspire the activist side of me," he said in an interview.

Cross began interviewing homeless people around the Guy-Concordia métro in the second year of his BFA studies at Concordia, a project which turned into his master's thesis, and, eventually, The Street.

By his own admission, the decade-long project not only traced his filmmaking apprenticeship, but also his personal shift away from romantic ideas about homelessness as freedom "from the constraints of conventional life," and toward the serious issues of physical and substance abuse.

"I was naive when I started that film," he admitted, "and by the end I wasn't." For his second film, S.P.I.T. (Squeegee Punks In Traffic), Cross worked closely with a Montreal street punk named Roach to help "advance my ideas by using Roach's enlightened firsthand experiences in an area I was entering with only general stereotype information."

Cross is approaching Inuit Teens with the same open mind. Following on the idea of the "Roach Cam" (which offered viewers a uncensored squeegee-kid's-eye view of the world), Cross and S.P.I.T. cinematographer Mila Aung-Thwin provided the eight Inuit teens with three video cameras in an effort to "engage them at the highest level: 'I'm not going to film you, you're going to film you.'"

"It's a real learning thing for me, how to engage with them in a way that they have a desire to be engaged, and not just my way.

"Being of a different culture, I realized they didn't have that 'investigative journalism'-type analysis in their way of looking at life. It's not apathy as much as it's a cultural style: they don't quiz each other, they don't look for scandals.

"By nature, they have nothing to say to the camera, and no interest in 'being a star.' It's a bit odd; anywhere else in the world, you can always find a cheese-man who's going to give you something good.

"It was hard to see what they were going to film, so I'd bring up discussions about suicide, or gambling, and try to find out what the issues are with them. I challenge them by saying, 'Come on, you guys are teenagers, and every teenager conflicts with society in some way!'"

Cross and Aung-Thwin are preparing to make their fourth northern visit at the end of the month, and Cross says he can already see the students "becoming a little more extroverted with their thoughts."

"They know the camera is an opportunity for them," he said. "One of the guys is really interested in his grandfather, who's a polar-bear hunter — and that's great status in an Inuit community. He asked, 'Does this mean I can ask my grandfather some questions?' because he'd never engaged with his grandfather in that way before. It's pretty simple, yet pretty huge at the same time."

Cross plans to work with the teens until the fall, when most of them plan to leave their community to enter CEGEP in Montreal.

He is also developing a feature film about urban skateboarders, building an online archive of video testimonials by homeless people from across Canada (http://www.homelessarchive.org), and helping Aung-Thwin make his directorial debut with a documentary about Montreal's métro buskers.

Diverse as these subjects may seem on the surface, Cross locates a strong unifying undercurrent in all his work.

"There's a real social relevance to engagement, to not just hanging out and being lost and confused.

"The whole point for me is to use the same equipment that corporate media, for lack of a better term, uses all the time to present a very small percentage of the population's voice.

"You can use the camera as a way, for example, to ask a question to your grandpa about polar-bear hunting; it's a tool of empowerment.

"I'm hoping to take that same equipment and give other people voice."