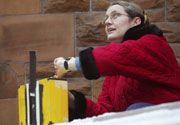 Ronda Rowat tries her hand at pinhole photography.
Photo by Andrew Dobrowolskyj
by Susan Font
The Greeks dabbled in it. Leonardo da Vinci used it. Many a painter employed it to find central perspective, and Christian Knudsen, mesmerized by it as a boy, is an expert. It's pinhole photography.

"When I was about 11 or 12, I worked on a farm by the Richelieu River," Knudsen said. It was dark in the country, but the headlights of cars would beam into his room as they passed by.

"I'd pull the shade down to block out the headlights, but there was a tiny pinhole in that shade and I'd have a pinhole extravaganza on the wall. Cars moving past left to right — upside down. I thought it was like magic."

Knudsen, a part-time professor at Concordia who has taught here since the '70s, gave a pinhole photography workshop on Saturday. Feb. 8, in the Leonard and Bina Ellen Art Gallery to pass on some of his expertise and passion for this combination of science and art.

Early Saturday morning, Knudsen kicked off the workshop with a lecture on the history and principles of pinhole photography. There were nearly 10 of us, and more arrived later. Each attendee had brought a homemade pinhole camera along, made according to Knudsen's tips.

All manner of boxes and tins had been transformed to cameras. Several had to be patched up or improved for the shooting ahead.

Pinhole photography — or sometimes called fotography — is a simple and lensless way of taking photos. A box or tin is upgraded to a camera by a few modifications. A tiny hole is drilled in a piece of aluminum or very thin sheet brass at one end of the box; this is the aperture.

A piece of light-sensitive, emulsion-coated paper is put at the back of the box, facing the hole; this will be your negative. The inside of the box should be painted black, to prevent the light coming through the pinhole from bouncing around and clouding the image and the seams of the box covered in black tape. The lid must fit tightly.

Once a scene is chosen, the pinhole is aimed at it and exposed for between 20 seconds and a minute. It depends on the light outside. Then the negative will be developed, and can be exposed to become a positive, or photograph.

Pinhole photography offers several benefits to using a more modern camera with a lens. It is relatively inexpensive, portable, rather novel and it gives fast results.

Knudsen also emphasized how these cameras have an unlimited depth of field. This means that a blade of grass in the foreground will be as focused as a building in the background.

We saw examples of some of Knudsen's photos, which were recently part of an exhibition and the clarity and scope of the images was impressive. He also showed us some of the choice pickings of photos that his students have taken from the two photography classes that he teaches at Concordia. The shape of the box or cylinder will change the range of view; you can make a wide-angle camera and a zoom lens effect also.

Workshop students spent the rest of the day between the outside city aiming their camera boxes at well-lit views and the darkroom. "This light is perfect," said Knudsen in reference to the blue sky and vivid sunlight. "I ordered this day."

Two Concordia students, 24-year-old twins Clarisse and Audrey Octernadu, attended the workshop enthusiastically.

Students of translation and computer science respectively, they said that a teacher had highly recommended the class and urged them to secure places in the workshop.

Ronda Rowat, a psychologist, said, "I was curious when I saw some panoramic pinhole photos that were so beautiful. [The concept] seemed so simple, I thought, 'I want to do this!'"

The workshop was a complimentary part of a two-month educational series at the gallery. The program includes an ongoing exhibition of Tim Zuck's photography, tours, workshops and offered painting and photography classes.