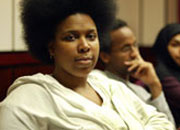 Faye Cummings, secretary of Concordia's chapter of the National Society of Black Engineers (NSBE). Guled Hussein (middle) and Nayab are in the background.
Photo by Andrew Dobrowolskyj

by Melanie Takefman

Education, unity and sustainable development are critical concerns for black students, according to the organizers of this year's Black History Month events at Concordia.

Black History Month, a celebration of the history, culture and identity of black people around the world, is being marked throughout the month of February at Concordia by events including a science exhibit, a fair of art, poetry, food and dance, and a lecture series.

The emphasis of this year's events will be on education. Ina Cassell, the president of UMOJA, the African Student Union of Concordia, said that black juvenile delinquency stems from a lack of positive role models and promotion of education among black youth. Because of the prevalence of negative portrayals of blacks, young people "don't see themselves having a future," Cassell said.

The black person as athlete or entertainer is a common stereotype, said Faye Cummings, secretary of Concordia's chapter of the National Society of Black Engineers (NSBE). As a result, many young people believe that this is the only way that they can succeed in life.
For example, both black students featured in Concordia's public transit advertisements are identified as varsity athletes.

However, three black students, who are not varsity athletes, as well as two staff members and one professor are featured in other advertisements.

Thus, the goal of the "Visions of Science" exhibit, which included a display of African inventions, on Feb. 9-10, is to foster self-esteem and expose youth to career opportunities in science. Jobs in the sports and entertainment industries are not necessarily sustainable, but "science is something that will always be there," Cummings said.

She added that there are very few black students in her engineering courses at Concordia. Generally, "when you're the only one of your kind, you feel alone," Cummings said. '"It's very hard to learn on your own."

Moreover, there is a lack of solidarity at the university as a whole. Because no central black association exists at Concordia, students have little leverage, no one to advocate on their behalf and no support system.

To remedy the situation, Cassell envisions an "afrocentric village" that would support black students at Concordia in the promotion of their rights, academics, and other aspects of campus life. The centre could also extend to Montreal's black community. She pointed to the Centre for Native Education as a model.

"People need to know how to manoeuvre in a society," Cassell said. We "don't have a sense of belonging, a sense of home."

She attributed blacks' spiritual disorientation to the "horrific holocaust" that occurred when Africans were forcibly removed from their countries hundreds of years ago and dispersed around the world. "We are paying every day for that crime," Cassell said.

Likewise, Cassell supports the creation at Concordia of an African Studies program headed by black educators. Black people can teach their own history effectively, she said. "We need to find out about our own history before other people teach us about it."

Another element of the afrocentric village would be links to Africa, like sustainable projects with AIDS children.

While black students at Concordia don't always work together, organizers of this year's Black History Month events have demonstrated "a good deal of co-operation," according to a member of the Muslim Students Association (MSA), who gave only her nickname, Nayab.

Guled Hussein, Black History Month co-ordinator for UMOJA, hopes that this year's activities will serve as a "road map" for future student organizers. In fact, this year's multitude of activities is an improvement over last year, when only a few lectures acknowledged Black History Month.


Black History activities 2003

Open to the public

Feb. 14:
Poetry reading, 2030 Mackay St., first floor, 7-10 p.m. The Graduate Students' Association presents a poetry reading with Benadette, Ophelia and Serena. Light refreshments served. For information, call Celine at 848-7900.

Feb. 15:
Celebrating the Richness of Black Culture, Hall Building Mezzanine, 11 a.m.- 8 p.m. Black Women on the Rise present an art exhibition, story reading, poetry, mask-making, dance, food-tasting and more.

Public lecture by human rights activist Imam Khalid Griggs on "What They Didn't Teach You About Black History." 6 p.m. Hall Building, H-110. Presented by UMOJA and the Muslim Students' Association.

Feb. 21-23:
Iced in Black: Canadian Black Experience on Film, a festival co-hosted by UMOJA and QPIRG McGill. Chocolate City, a film by Concordia alumnus Stefan Verna, will be screened on Feb. 21. For film schedules and additional information, visit http://www.icedinblack.ca.

For general information, contact UMOJA at 848-3530 or visit http://umoja.concordia.ca.