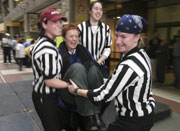 Staff member resists arrest: Above, Elaine Arsenault (Advancement/ Alumni) is borne off to see the judge. Her captors are Nathalie Cuvele, Janie Brassard and Marie-Hélène Deblois.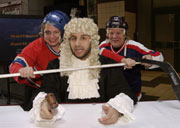 Above, Judy "The Puck" Robinson and Johanne "The Rocket" Richard put the squeeze on Hizzoner Carl Petrone (ECA president).
Photos by Andrew Dobrowolskyj
The Daffodil Penalty Box proved successful once again in extracting funds from Concordians for the Canadian Cancer Society's annual campaign. Organizer Nancy Curran reports that $11,000 was raised for the fight against cancer by this marvellous effort.
The event which took place on April 3 was hosted by Marvin "The Enforcer" Cooper. Hockey coach Kevin Figsby played host to Réjean Houle (Montreal Canadiens), Ron Piché and Denis Boucher (Expos) and Danielle Sauvageau (national women's hockey coach).

The celebrity guests provided a signed Canadiens hockey stick, Expos season tickets and signed baseballs to be raffled off around 1 p.m. tomorrow (Friday, April 11).