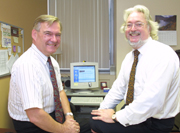 Michel Leduc and Rick Bisaillon. The latter has literally worked his way from the mail room to the ranks of faculty. He started as a part-timer in Distribution Services in 1975, worked for many years in Audio-Visual, earned a master's in public policy, and just starting teaching statistical methods in the Department of Political Science while working on his PhD. Throughout the years, he has been an active union member.

Photo by Andrew Dobrowolskyj

by Barbara Black

Employees will soon have smoother, quicker and more specific communication with the university's Department of Human Resources and Employee Relations, thanks to information technology and some good old-fashioned person-to-person.

The department is transferring much of its routine information- response service to the web, in effort to improve efficiency and accessibility. One element is the "Employee Self-Service Facility," or ESS, which will be up and running Oct. 9.

Up-to-the-minute information
Last week, full-time and part-time employees received their login ID and password for the site, which may be accessed at http://flamingo.concordia.ca/publix/html, or through the "Update Your File" link on the department's home page. Other employees (part-time faculty, continuing education faculty, retirees and casual/timesheet) will likely be phased in.

ESS will provide up-to-the-minute information about your pension, health and drug benefits and payroll deductions, with a link to job postings. You'll also be able to update your own information, such as your address, telephone number and emergency contacts.

The idea is to drastically reduce the load on the front-line service personnel in HR by taking care of the easy-to-answer queries and allowing them to deal with more difficult requests from employees.

The staff responsible for the ESS project are HRIS Systems Manager Michel Leduc and HRIS Systems Analyst David Thivièrge.

Thivièrge said, "ESS is an add-on application from NOW Solutions, the makers of Ross, the human resource and payroll application used by the department. To our knowledge, we are the first institution or company to go live with this product. IITS has customized it to suit Concordia's needs."

Going hand in hand with the ESS is a phone information system, a pilot project undertaken by Rick Bisaillon It will be available Monday to Friday from 9 to 11 a.m. and 3 to 5 p.m. at 848-4177.

"More and more, we're encouraging people to go to our web site, and we're constantly increasing what's there," Bisaillon said. Some employees don't have access to a computer at work, he acknowledged, but IITS will install computer terminals in locations that are accessible to the most likely users.

Still person-to-person service
For those who still want to use the phone, Bisaillon will be at the other end of the line. He vows to answer every call in person, or if necessary, refer it to HR receptionist Jane Scribner. "You'll get a live human being," he said.

Bisaillon says the ESS system is key to providing dynamic, interactive service to employees. Because it's tied to Payroll, the data is up-to-the-minute.

As part of a comprehensive benefits information strategy, at least four more "calculators" are being added to the system. One works out the status of your contributions to the Concordia pension plan, telling you what your bi-weekly deduction would be if you chose to become a contributing, as opposed to default and mandatory non-contributing, member.

A second calculator helps you figure out your life insurance premiums and benefits. A third calculator gives you the payroll deduction for the optional (i.e., supplementary) insurance plan, and a fourth calculates your pension contributions to date, with your allowable RRSP contribution.

If you are a full-time or part-time employee, read your explanatory information from HR carefully for a fuller explanation of the service it provides.

Right now, the ESS site can only be accessed through Microsoft Internet Explorer 4.0 or higher. If you have trouble signing on, e-mail hr-web-master@concordia.ca for help.

Gilles Bourgeois, executive director of HR, said that in the coming weeks, you'll see more detailed announcements of new information services for employees.

"They will help employees who have complex issues to get the kind of assistance they want and HR/ER wants to provide."