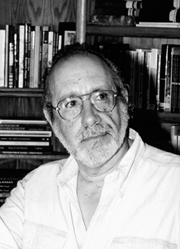 Poet Albert Goldbarth
---
Noted poet Albert Goldbarth to read at Concordia

Albert Goldbarth, author of more than 20 collections of poetry and the recipient of many literary honours, will give a reading at Concordia, followed by a reception. Goldbarth's most recent collection is Saving Lives. He has also published three collections of essays, most recently Many Circles. In 1992, he won the National Book Critics Circle Award for Heaven and Earth: A Cosmology.

His poetry has received a Guggenheim fellowship and three fellowships from the National Endowment for the Arts, and his work has appeared in Poetry, the New Yorker, the Paris Review, Harper's and the New York Times.

Here is what the Village Voice said: "Albert Goldbarth is a master mixer, moving from the colloquial to the highbrow, from the decent to the circumspect, from sex to quantum physics with as little caesura as a white space or a comma. . . . Goldbarth's poetry is charged, it seems, by some hyperactive ions; his interests are various and judicious. He is also supremely entertaining."

This event will take place in Concordia's D.B. Clarke Theatre on Wednesday, Sept. 26, at 8 p.m. It is part of the Writers Read series and was made possible by a generous grant to Concordia's English Department from United Way International.

---
Concordia golfers turn out for fun and prizes

The Memorial Golf Tournament continues to set records for participation. This year's edition, held August 15 at the Hemmingford Golf Club, drew 225 golfers and an additional 25 dinner guests.

The tournament is always great fun, but it's also a fundraiser for much-needed scholarships. This year, about $3,000 was raised. Competition isn't the main object, either, but congratulations to the winners:

Women's team: Marina Wolanski, Manon Cliché, Gail Grier and Carolle Poirier.
Men's team: Ted Hemming, Derrick White, Dave Batten and Glen Weir.
Mixed team: Jill Noftall, Alvin Noftall, Doug Noftall and Bruce Orr.

The hardworking organizing committee comprised Dave Batten, Perry Calce, Marcel Danis, Michael Di Grappa, Allyson Noftall, Tony Patricio, Patricia Posius, Glen Weir, Rick Young and Steven Zulkarnian.

The genial master of ceremonies at the dinner was Randy Swedburg, chair of Applied Human Sciences.

---
Community organizers exchange views and ideas

There was quite a crowd on the Loyola Campus in late June, when the Institute for Management and Community Development held its annual Summer Program.

About 850 people from 270 community organizations took part in nearly 80 workshops given by trainers from all over Canada and as far away as South Africa. An audience of 300 enjoyed the opening session with author Naomi Klein (No Logo) and organizer Laure Waridel.

More than 60 parents involved in education attended the Summer Program through the Third Avenue Resource Centre, of Montreal.

As a resident resource person of the Institute, David Beckwith, from the D.C.-based Center for Community Change, has been traveling across Canada and Australia to gather the views of organizers and activists. They met in June for the first time as a group.

Twenty trainers and consultants in fundraising from across Canada and the United States met to launch the Network in Fundraising for Social Change, which the Institute will develop over the next year.

Next year will mark the 10th summer program and it is expected to include special events to mark the anniversary.

---
Over the summer...

Artstravaganza, the Faculty of Fine Arts' annual spring fundraiser for scholarships, was the vernissage of work by photography students under the title XX5. Sponsored by the Faculty's advisory board and the Photography Department, the event on June 6 included live dance and jazz on the lawn of the Visual Arts Building.

Mold is a hot topic these days. Concordia's downtown DeSève Theatre was the site of a conference on indoor air quality on June 15 for researchers and members of the construction industry. Concordia Biology Professor Paul Widden told participants that while engineers tend to think of a building as a closed, controlled system, biologists see it as a complex, ever-changing environment of living organisms.

Hydro-Québec announced in June that it will provide $4 million over the next seven years to create an institute in electrical power engineering in partnership with six universities. The public utility wants to ensure that there is a supply of young graduates to replace the engineers expected to retire in the next decade or so. At the institute, to be established next year at the École Polytechnique, students will be able to take the final year of their bachelor's degree in English or French. Charles Giguère, chair of Concordia's Electrical and Computer Engineering Department, told the Gazette that Hydro-Québec intends to hire 25 of the 40 graduates expected each year.

Génome Québec has been launched under director Paul L'Archevêque and with the support of the Quebec government, Genome Canada and the relevant Quebec research organizations, including Concordia. It will coordinate research for health, agriculture, the environment, forestry and fisheries. L'Archevêque said its aim is to be one of the top 10 genetics research centres in the world by 2005. Genetics research at Concordia is led by Biology Professor Adrian Tsang.

---
More prizes than ever at Shuffle 2001

The organizers of the Shuffle have introduced some changes to the venerable walkathon. Pledges can now be paid by credit card. However, tax receipts will only be issued for pledges of $10 or more on an individual pledge form. Instead of pledging many Shufflers for $5 each, try to pledge each Shuffler for at least $10.

You can participate in the Shuffle even if you cannot walk on the day of the event, September 21. We encourage you to collect pledges from co-workers, colleagues, friends, and family. Walking or not, you will be eligible for an incentive gift based on the amount raised, and you'll be entered for the Grand Prize, to be drawn on Shuffle Day. (Unfortunately, you'll miss all the fun.).

This year, there's also a "thank-you draw." To qualify, you must collect all your pledges and hand them in by October 5. Prizes will be awarded to the biggest fundraisers in the following categories: faculty, staff, students and alumni. As well as the prizes, local celebrities will be on hand, and the Shuffle will be followed by the Rector's Reception. Be there!

---
New daily events calendar available online

A new online calendar of daily events at the university is available for consultation at www.concordia.ca/events. It is also available from the Concordia home page under News and Events.

Lise Tavares, of Information Services, encourages you to use the online calendar, and to contribute to it. You can do this by filling out the online form, or by dropping by the Information desk in the Hall Building or the Security desk at Loyola with your notice.

The Daily Class Cancellation page has also been revamped and can still be found through the Information for Current Students quick link.

---

Concordia to hold open house on October 28

Concordia will hold an open house aimed at potential students on Sunday, Oct. 28, on both campuses.

From 10 a.m. to 5 p.m., all faculties and departments, as well as all student service areas will be on view, with special displays. Some labs and classrooms will be open, and Concordia's performing arts and cinema students will show their work.