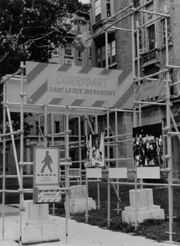 Mémoire de la rue, a familiar image from Corridart, by Jean-Claude Marsan and Melvin Charney.
Courtesy Concordia Archives

by Barbara Black

This July, Montrealers marked the 25th anniversary of their city's staging of the Olympic Summer Games. There was another 25th anniversary that might have slipped by unnoticed had it not been for a team of archivists, curators and graduate students from Concordia.

A public art exhibit had been organized by COJO, the cultural arm of the Olympic committee, and it was the brainchild of Melvin Charney, a brilliant young artist and architect who was a committee member.

CORRIDART: dans la rue Sherbrooke was funky and eclectic. The works, many of them rough-and-ready installations of scaffolding, cloth and found materials, lined Sherbrooke St. from Atwater to the stadium at Pie IX. At intervals, there were giant orange fingers pointing to other art venues above and below Sherbrooke St.

However, when Mayor Jean Drapeau saw this sassy display, some of it satirizing himself, he was mightily displeased. He ordered city workers to tear it down. It had been erected, in some cases by the same workers, only days before, but on July 13, four days before the grand opening of the Olympic Games, it was destroyed.

The artists were profoundly shocked. A court case for damages ensued, which the artists lost. (The judge essentially agreed with the mayor that the exhibit was ugly.) Eventually, with the help of Drapeau's successor, Jean Doré, a financial settlement was reached.

Fast forward two decades: Nancy Marrelli is Concordia's archivist, with a mandate to collect Montreal visual history. In 1976, her husband-to-be, Simon Dardick, was involved with Véhicule Press, part of the Véhicule Art Gallery on Ste. Catherine St.

Véhicule was an important part of the art scene in those days, and was closely involved with Corridart. Eventually, the material from the Véhicule gallery was deposited in Concordia Archives when the gallery closed. Moreover, in 1996, when it became known that evidence from the court case was about to be destroyed, documentation, photographs and artworks were recovered and became part of the Concordia Archives.

Art History Professor Sandra Paikowsky and Marrelli launched a project to use this material to revive Corridart, its dramatic fate and its original vision, in time for the 25th anniversary. Graduate students in Paikowsky's museology course did much of the research, continuing to work for months after their course ended last December.

Marrelli is entirely satisfied with the response to Corridart Revisited: 25 ans plus tard, held July 12 to August 18 at Concordia's Leonard and Bina Ellen Art Gallery.

"The visitors' book is just jammed," she reported afterwards. "People didn't just go through the gallery, they stopped and read the didactic material carefully."

Since much of the art was destroyed, only a few of the original works were available. The Concordia exhibit leaned heavily on plans, models and prototypes, plus photos, documentation and a videotaped interview with Charney, who is still a Montrealer, an artist and professor of architecture.

Why did l'affaire Corridart happen? It was a clash between an old-school civic administration that thought art had to be romantic or elegant, and a new generation of street-wise artists with a social message. Now, 25 years later, the city sponsors graffiti festivals, and thousands of Montrealers clamour to be photographed in the nude. Times have certainly changed.

The catalogue accompanying the Concordia show describes the legacy of this most ephemeral of art shows: "Corridart has been revisited in art exhibitions, art history theses, and publications on Quebec art of the 1970s. Regarded as an archetypal symbol of censorship, Corridart has not lost its place in the discourse of contemporary art."