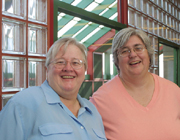 Classrooms are the business of Sandra La Fontaine (left) and Linda Hull.

Photo by Andrew Dobrowolskyj

by Barbara Black

Enrolment is up 12 per cent, but where are all these students going to fit? In an institution chronically suffering from a shortage of space, the employees who are charged with finding the appropriate classrooms have learned ingenuity, determination and patience.

This is among Linda Hull's duties in the Office of the Registrar. She finds that at this time of year, crises, real or perceived, are endemic. When we talked to her on the second day of classes, she had just discovered that a classroom she was told had a capacity of 80 had room for only 60 students.

"People don't understand the ramifications of a little mistake like that," she lamented, but she was already on the way to solving the problem.

The process of assigning classrooms takes 11 months. It starts in October, when the faculties determine the maximum number of students in each course, at which campus it will be given, and when. Hull and her team of one start to analyze this data in January.

"Our biggest concern is ensuring that we have sufficient rooms to accommodate courses with enrolments of 60 or more students as there is no rental space available at that size to help us out," she said.

The university has nine rooms on the Loyola Campus and 21 on the downtown campus that will accommodate at least 60 students; the Alumni Auditorium, H-110, is not a teaching space.

"The majority of our classrooms will accommodate between 40 to 50 students, though, and we can rent more if needed."

On the downtown campus, Concordia rents classrooms at O'Sullivan College, on Mountain St., for night classes, and the former Lasalle College, on Drummond St. for both day and evening classes.

One would think that Hull is looking forward to the construction of our new buildings. She is, but "it's getting from here to there that I'm worried about."

Because construction at Loyola has closed the Bryan Building, the university has temporarily lost 1,000 student seats, a staggering challenge for Hull's team. However, rooms have been rented in nearby St. Ignatius Church.

This process of trying to fit every class into an appropriate room is like horse-trading. "We sort of barter with the representatives of the Faculties to come up with the best solution," Hull said.

"There are many ways to go, depending on the flexibility they have: find a bigger room, trade rooms with somebody else, adjust the capacity of a course down or change the day or time. This can continue all during the months leading up to the start of term."

This year, for the first time, much of the planning is being done with computer software. What used to take three months can be done by the computer in about an hour, but special requests still take up staff time.

Some teachers want the same classroom they had last year, or they want the same room for two consecutive classes.

Many want high-tech classrooms. "IITS is doing an incredible job of retooling the classrooms, but not everything is up and running for the first day."

The most popular times for classes are early evening. Mornings from 8:45 to 10 o'clock used to be the least popular, but that's changing, because it has to, Hull said. Friday used to be relatively class-free for most Faculties, but Engineering and Computer Science is busy on Fridays, especially since its enrolment has mushroomed.

Some complaints are not Hull's staff's responsibility — poor air, poor lighting, seats poached for another classroom, squeaky doors — but they must be handled patiently and reported to the appropriate person.

"We're on the front lines. It's incredible pressure to put on our scheduling assistant, Sandra La Fontaine," Hull said.

Finding space for exams can be less difficult, since the numbers are not so huge, but on the other hand, Hull said, twice the space is needed, because the students must be seated farther apart.