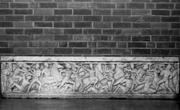 Concordia's marble sarcophagus, circa 4th century AD

by Anna Bratulic

Concordia owns an ancient Roman coffin, or sarcophagus, one of only two known to exist in the city, but few people know about it because it lies in storage at the Leonard and Bina Ellen Art Gallery, in the J.W. McConnell library complex.

Archeologist Jane Francis didn't know about it, either, until a university administrator mentioned it to her, at which time she began a detailed study of its provenance and meaning. The result, "A Roman Battle Sarcophagus at Concordia University, Montreal," was published recently in the journal Phoenix.

It is a two-piece set: a marble box depicting a battle scene which was probably carved at the height of the Roman Empire, around 160-170 AD, and a cracked lid depicting Christian scenes from the Old and New Testament, probably carved in the fourth century AD. Its small size suggests it was a child's sarcophagus.

"A young upper-class man, somebody whose family could afford this, either was destined for a military career because that brings you fame and glory, or else he could have been old enough to start going to battle, watching from the sidelines, perhaps, and he died before he was able to fulfill his career as a military man," Professor Francis said.

"Very much of it is projection: 'If you'd lived, my darling young son, you would go into the glories of Roman adulthood.' A lot of them are probably lies. Maybe this little guy was four years old and sickly from day one, and never got near a horse, let alone any military action, but this is how his parents envisioned his life turning out."

Bequeathed in 1966

Purchased in Rome on the art market by a Montreal collector, the sarcophagus was bequeathed to the university in 1966 and remains its only antiquity. Nothing is known about the origins of the piece prior to its purchase, including who owned it before the Montreal collector bought it.

"This is the problem with buying antiquities on the art market, from auctions and private collections. They lose their original source information.

"To be fair, it was much more common back when this was purchased — people didn't frown on it so much. They didn't realize what was being lost. This may have ended up in the family house or in the same property of the people who originally bought it in the Roman period.

"It may have just come down through the ages, but we would never know it. It's terrible for archeologists, because we lose a lot of information about the original function and use of these monuments," she said.

"The acquisition of this kind of monument by private individuals, I think, is heinous."

Francis, who teaches a class on Roman art and architecture in the Department of Classics, Modern Languages and Linguistics, gives her students a photo of the sarcophagus for a take-home exam. Based on what they've learned in class, they are expected to date it and interpret it. They also express a desire to view it first-hand, she added.

"They want to know where it comes from, and if they can go look at it. I would love to be able to bring students in here, even in small batches, to show it to them and use it as a teaching tool, but that's impossible.

"It's just gathering dust here. I would like to see it somewhere, where at least there would be public access to it for study purposes."

The sarcophagus is not displayed in the university's art gallery, partly because of the huge cracks on the lid. (Social memory has it that it may have been dropped in a robbery attempt many years ago.) However, the main reason is that it does not fit in with the gallery's mandate, which is to showcase Canadian art.

The sarcophagus doesn't fit the bill, obviously. After it came into the gallery's possession at the time of the 1974 merger, rumours swirled that the university was planning to get rid of it.

"There is absolutely no possibility of that happening at this time," said Lynn Beavis, interim director of the gallery. "There has to be an extremely good reason to de-accession [give up possession of] an art work. If a proposal came forward regarding the relocation of the sarcophagus, the gallery would look at it very carefully." She added, "Although it doesn't fit into our mandate, we are still concerned with the object's proper care and preservation."