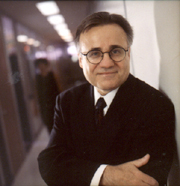 Lawrence Kryzanowski
Photo by Christian Fleury

by Frank Kuin

The terrorist attack on the United States has been more of a catalyst for the current economic slowdown than a root cause, says Professor Lawrence Kryzanowski, of Concordia's John Molson School of Business.

The main economic impact of the strikes has been to dent consumer confidence, which was still robust before Sept. 11 despite clear signs of an impending downturn, said Kryzanowski, who holds the Ned Goodman Chair in Investment Finance.

By contrast, most corporate problems that have surfaced in the past month are likely to have been rooted in circumstances pre-dating the terrorist attack, Kryzanowski said. Companies are tempted to air their bad news now that it can be blamed on "an atypical quarter," he explained.

Based on the fundamentals of the American and Canadian economies, Kryzanowski, who predicted that a recession was highly likely months ago, is still betting on a brief downturn of anywhere between nine and 18 months. Economic prosperity, he said, will return.

Clearly, however, many businesses are affected by the economic fallout of the attack. Costs of business are on the rise, including security and transportation expenses. Cross-border trade is subject to new "frictions," such as lineups for intensified security checks, and further tax breaks are unlikely now that the government may lose its surplus.

But while the terrorist strikes were "an important negative event," Kryzanowski said, "they were probably not even the main cause of what has happened to the economy." Rather, the attack has abruptly brought the general public around to the probability of a recession.

"A lot of us [economists] believed that the economy was going off," Kryzanowski said, "but I don't think that was a general feeling among the public. So consumers were proceeding as if the economy was going to just keep going. I think a lot of people have reassessed."

Indeed, consumer confidence was probably running higher than was warranted by the economic situation before Sept. 11. Now that people might postpone purchases of big-ticket items, it is important that they not become overly pessimistic, Kryzanowski said, adding that that is where positive spin from the government comes in.

From a corporate perspective, meanwhile, the attack has become somewhat of a scapegoat for companies with bad news to tell. Any painful announcements to be made had better be made now, all at once, as people are braced for it anyway — a tendency known as the Big Bath Theory.

"Every other problem you had, it's very convenient to some extent to say that it's caused by the events," Kryzanowski said, giving layoffs as an example. "Before, if you laid off people, there was a fair amount of flak. Now if you lay off employees, people say, Well, it's caused by the event."

The prime examples are airlines, including Swissair, which was temporarily grounded for lack of funds, and Air Canada. "You don't run out of money because you've got problems for two weeks."

Allowing that demand for air travel has temporarily plummeted, he said that the airline industry is not in a structural decline. Rather, many airlines have been mismanaged and built up untenable debt loads in the process.

"The bottom line is, everything that you do has to add value to the airline," Kryzanowski said. "If you're just fighting to have the most routes and the nicest planes and that sort of thing, it may not be the correct strategy. It may not be profitable."

A large bailout would therefore not be right, he argued. "If you bail out Air Canada by giving them billions of dollars, there's not going to be any lesson learned."


---

Annus mirabilis for finance scholar

It has been "a good year" for Finance Professor Lawrence Kryzanowski, as he himself told the Thursday Report with understatement. Kryzanowski has won three academic awards in the past 12 months for research papers on several topics in financial management.

Last October, a paper co-authored by Kryzanowski on the reasons why Canadian banks survived the Great Depression won the top prize of the Office of the Superintendent of Financial Services in Canada.

Another co-production, published in the Multinational Finance Journal, also won a best-paper award. In the paper, the authors examined the effects of stocks being added to or withdrawn from a market index, like the TSE 300.

Most recently, Kryzanowski and Jocelyne Ménard, senior analyst of the TD Bank's Risk Management Group, won the first annual Barclays Global Investors Canada Research Award for excellence in Canadian capital markets research. They studied bond rating migration, the phenomenon whereby ratings of corporate bonds are gradually adjusted as warranted over the lives of the bonds, often to lower grades.

They found that high ratings in many cases offer a false sense of security, as chances are less than even that a highly rated bond still has its initial rating after five years, Kryzanowski explained. The award carried a $10,000 prize.