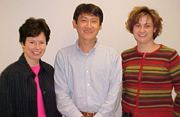 Lynn Verge (DIA Community Services), Angyang Xu (DIA Community Services and Para-Public Administration) and Samantha Aiton (DIA Health Care)



by Dana Hearne

Lynn Verge is a former Newfoundland cabinet minister, Angyang Xu is a Chinese forestry official, and Samantha Aiton was the provincial revenue auditor for New Brunswick.

What these three people have in common is that they are all students in Concordia's Graduate Diploma in Administration or Diploma in Sports Administration (DIA/DSA). The program offers training in the management of organizations in the non-profit sector, including health care, the arts, community development and sport.

Dr. Clarence Bayne has been the director of the program since 1989; he also teaches in the Department of Decision Sciences/Management Information Systems at Concordia's John Molson School of Business. His position as director is fully in keeping with his cross-disciplinary interests and commitment to community. All his life he has been involved with non-profit agencies and civil liberties organizations. "This program is ideal for people who want to know where they fit in the larger scheme of things, for people who are moved to collective action and are more comfortable in the non-profit sector."

Lynn Verge was elected to the Newfoundland legislature five times from 1979 until 1996. During that time she served as minister of education for six years and minister of justice and attorney-general for four years. In her late 40s, she has always liked working in the public service as well as in voluntary organizations.

"I found myself energized by different kinds of volunteer work, in political campaigns, arts organizations, the women's movement."

The fall of the Progressive Conservatives in 1996 in Newfoundland turned into the opportunity to work as a lawyer, travel, study French and do volunteer work. When she saw an ad for the DIA/DSA, it looked like the right choice at the right time.

Tailormade for career goals

Samantha Aiton has a Bachelor of Commerce with a joint major in accounting and management from St. Mary's University, in Halifax.

Now in her late 20s, she saw the program as an opportunity to make a career move. Halfway through her accountancy degree, she found that accounting didn't really suit her. She finished the program anyway, moved back to New Brunswick and started working as an accountant. After four years, she was looking for a change.

"I knew I was interested in the health sector, so I researched the options," Aiton said. "This program seemed tailor-made for the kind of career I had in mind."

Angyang Xu is senior engineer of the forestry department of Heilongjiang Province in China, specializing in wetland conservation and nature reserves management. Last year, he managed the Sanjiang Wetland Conservation Project for the United Nations Global Environment Facility.

Xu, in his late 30s, has been involved in environmental work since he graduated from university in 1985. In recent years, he has participated in wildlife conservation in co-operation with international conservation organizations in Japan, Russia, the United States and, of course, China.

"I have become more and more interested in the non-profit sector," he said, "and this is a sector which is just in its early stages in China." Friends told him about the program at Concordia and he feels it is exactly what he was looking for.

The program is flexible and allows students to participate on a full-time or part-time basis. Built into it is an internship (three-month minimum) in the field of your choice.

Finding the perfect match is the task of Chen Huang, assistant director and internship coordinator for the program.

"Students are becoming more and more specific about what they want and we have been very successful in placing them in organizations most suited to their goals," she said. "Usually the organizations are so impressed with the students we send, that they keep them on, and even want us to send more students."

Concordia DIA/DSA grads have found work at the National Research Council, with Les Grands ballets canadiens, the Canadian Council for Refugees, Open City Productions, the Cirque du Soleil, in health organizations, environmental organizations, and with the National Hockey League.

"Sometimes there are more internship opportunities than there are students to fill them," Huang said.