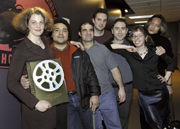 (
click to enlarge
)


Some of the award-winning students: left to right, Isabelle Gatti (Film Production, Mel Hoppenheim Award), Joel Montanez (MFA Film Production, Fondation De Sève Graduate Award), Jacques Khouri (Film Animation, Norman McLaren Award), Randolph Jordan (MA Film Studies, Lotte Eisner Prize), Majdi Lahdhiri (Film Production, Dean's Award & Matthew Czerny Award), Anna Sikorski (Film Production, Vision Globale Award) and Yong Sik Shin (Film Production, Reitman Scholarship). For a full list of winners, please see the Web version of CTR, at pr.concordia.ca/ctr.


Photo by Andrew Dobrowolskyj

by James Martin

Over the course of the Mel Hoppenheim School of Cinema's annual awards ceremony, students collected over $40,000 in scholarships, film stock, equipment and studio rentals, and cash prizes.

The sheer volume of awards handed out on April 25th — some donated by businesses (both film-related and otherwise), some courtesy of generous faculty and staff — speaks to the school's growing reputation.

"These donations really demonstrate our credibility, and continuity, in the community," said Amely Jurgenliemk, the school's administrator. "A lot of our graduates and teachers are very much part of the vibrant filmmaking milieu in Montreal. Most of our donors have given consistently, despite some rocky financial times. They're very supportive, and very loyal."

Marielle Nitoslawska, Associate Professor of Cinema and a documentary filmmaker, sees the community's involvement as acknowledgment of the school's high-calibre students. (As one award presenter noted, "Some of our programs are harder to get into than Harvard!") "We're coming into our own," Nitoslawska said. "We've been a well-kept secret, and now we're being recognized."

There were 61 well-deserving award winners, but two warrant particular mention. The school's namesake award, the $1,500 Mel Hoppenheim Award for Filmmaking, went to third-year student Isabelle Gatti for her outstanding achievement in film production.

Majdi Lahdhiri received this year's Matthew Czerny Award, presented in memory of the documentary film student who was killed in a 1995 climbing accident. Czerny died shortly before beginning his final year of study at Concordia; his family used the money he had earned for his tuition, along with donations, to set up an endowment fund.

"Matthew didn't graduate the traditional way," said his father Robert, who travels from Ottawa each year to present the award and meet the recipient. "But he's graduated six times over by helping other students."

It is exactly this emphasis on the individual, Nitoslawska said, that distinguishes Concordia's school from other film programs.

"We are real suppliers of creative talent not only to the industry — and there are Concordia graduates working on every single shoot in Montreal — but to the artistic community," she said.

"We're really looking for the author," she continued. "We're looking for the human being who has something to say to other human beings. And that's unique."

Rounding out the Mel Hoppenheim School of Cinema's semester is YES, the 29th annual year-end screenings, presented by the Cinema Students Association. The screenings run from Thursday May 9 to Saturday May 11 at 6 p.m. in Room H-110 of the Henry F. Hall Building.



---

MEL HOPPENHEIM SCHOOL OF CINEMA AWARDS 2002

Awards in film animation:

The A.S.A. Ani Award: Jean-Philippe Therrien
The Cinar Award: Darren Pasemko
The Fondation De Sève Award: Brigitte Archambault
The Fondation De Sève Award: Benoît Chagnon
The Fondation De Sève Award: Annie Filion
The Fondation De Sève Award: Mark Lomond
The Fondation De Sève Award: Oliver Tsuji
The Fondation De Sève Award: Guillaume Turcotte
The Fuji Award: Louisa Sage
The Full Circle Award: Benoît Paradis
The Kodak Award: Marc Boutin
The Norman McLaren Award: Jacques Khouri
The Norman McLaren Award: Marie-Josée Saint-Pierre
The Zlatko Grgic Award: Philippe Tardif

Awards in film production:

The Fondation De Sève Production Grant: Emily Frazier
The Fondation De Sève Production Grant: Paul Raphael
The Fondation De Sève Production Grant: Maxim Rheault
The Fondation De Sève Production Grant: Louis-Philippe Hénault
The Fondation De Sève Production Grant: Nick Thorburn
The Fondation De Sève Production Grant: Evgeny Zborovsky
The Fondation De Sève Graduate Award: Joel Montanez
The Fondation De Sève Graduate Award: Monica Maric
The Fuji Award: Van Royko
The Jean-François Bourassa Award: Benoît Beaulieu
The Kodak Award: Mathieu Grondin
The Kodak Award: Joshua Schultz
The Kodak Award: Catherine Pallascio
The Matthew Czerny Award: Majdi Lahdhiri
The Michel Trudel Award: Shelley Baart
The Michel Trudel Award: Mariano Franco Gonzalez
The Motion Picture Foundation Award: Julie Rocque
The Vision Globale Award: Anna Sikorski
The Vision Globale Award: David Richard

Awards in film studies:

The Bazin-Sadoul Award: André Habib
The Lotte Eisner Prize: Randolph Jordan
The Parker Tyler Award: Jon Davies
The William K. Everson Award: Santiago Hidalgo

Film animation scholarships:

The Allegra Solutions Scholarship: Alison Davis
The Allegra Solutions Scholarship: Erlvin Camat
The Groupe Image Buzz Scholarship: Alexandre Rouillard
The Groupe Image Buzz Scholarship: Yi-Jing Chang
The Transfilm Scholarship: Alexandru Dragutescu
The Transfilm Scholarship: Amélie Beaulne
The Transfilm Scholarship: Mathieu Goyer

Film production scholarships:

The Astral Communications Scholarship: Marie Léveillé
The Banque Nationale Scholarship: Reda Enan
The Cinélande Scholarship: Étienne Boilard
The Fabrique D'Images Scholarship: Heetesh Patel
The Fondation René Malo Scholarship: Rachel Germain
The Fondation René Malo Scholarship: Émilie Karuna
The Jet Films Scholarship: Holly Brace-Lavoie
The Michel Trudel Graduate Scholarship: Nicholas Belleau
The Reitman Scholarship: Yong Sik Shin
The Vision Globale Graduate Scholarship: Shane Eason

Film studies scholarships:

Undergraduate Scholarships:
The Fondation De Sève Scholarship: Thoth Harris
The Fondation De Sève Scholarship: Paul Melançon
The Silver Star Mercedes Benz Scholarship: Laurel Wypkena
Graduate Scholarships:
The Harvey and Rickey Blatt Family
Foundation Scholarship: Anna McLeish
The Fondation De Sève Entrance
Scholarship will be offered to: Defne Tusun

The Dean's award:
The Dean's Award for Cinema: Majdi Lahdhiri

The Mel Hoppenheim Award for filmmaking:
For Outstanding Overall Achievement in Film Production: Isabelle Gatti