Bill Gilsdorf and Susan Joiner taught in the Communication Studies Department for about 25 years, and recently retired. They have been travelling and working in Asia. Residents of Alexandria, Ont., they have written a number of articles for the Glengarry News, from which we present excerpts.

Coincidentally, Burma, also know as Myanmar, has been in the news, because the opposition leader and Nobel Peace Prize winner Aung San Su Kyi was released from house arrest.

---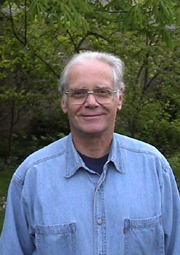 Bill Gilsdorf
by Bill Gilsdorf

A small resort on the outskirts of Chiangmai, in northern Thailand, was the site for my workshop with a group of officers of the All Burma Student Democratic Front (ABSDF), 12 men and three women, mostly in their mid-30s.

I had been told very little about the participants, except that they had little English and they wanted training in strategies to gain increased media coverage for their concerns. A Burmese translator would be necessary for the six intensive days of media training.

After a short walk to calm my nerves, I entered the conference room five minutes early to find everyone in their seats, ready to start. Used to the casualness of North American students, this was my first taste of how serious and dedicated these "students" were. For the next six days, each session started exactly on time and often ended overtime, without the usual signs of restlessness and "Let's get out of here" so prevalent in a North American classroom.

The All Burma Student Democratic Front was one of the first oppositional groups formed after the August 8, 1988, uprising of millions of Burmese, to which the military government responded with brutal repression, killing thousands. For almost 14 years, this group of former students, representing a number of ethnic groups, has been combining humanitarian aide and education with armed resistance "inside," a term that most Burmese in exile use to refer to their homeland.

The maintenance of armed resistance has been a source of dissension within the group, and it was a troubling dilemma for me. The ABSDF military, now shrunk to about 100, is primarily used for defensive purposes when groups go "inside" to deliver medical or other assistance. Half of the 15 people in my workshop spend an average of six months each year "inside," and the other months working along the Thai-Burma border.

Part of their "real world" is constant surveillance. To my surprise, but not theirs, we were visited three times by three different security forces, who just walked into the room unannounced, listened for a while, took pictures and names, and then left.

Because of the routine of having to wait for translation after almost every sentence, I had time to actually watch faces as ideas connected, or confusion registered. I could see in the eyes of these Burmese participants an intensity that signalled lifelong purpose.

For me, there was the gift of a renewed vision of the importance of teaching and learning, and the knowledge that for many, like those in the All Burma Student Democratic Front, education really is for the real world.


---
Burmese refugee women focus on learning

by Susan Joiner

Twenty-two Burmese refugee women sat on bamboo mats in a long, open room, waiting for me to begin the four-day workshop on community-building. Their 24 children had been skillfully steered outside to play for the day by the babysitters.

For the next four days we would work six hours a day, our discussions painstaking, as they were conducted through a translator. The women were earnest, focused, good-humoured and tireless in their efforts to learn.

Owing to a series of helpful contacts, chance encounters and good luck, I was able to go to Mae Hong Son, in northern Thailand, to offer this workshop. The women who came to the training in Mae Hong Son had travelled long distances from refugee camps along the Thai-Burma and India-Burma borders. As refugees, they are "illegals" in Thailand, and therefore, without documents. Without these documents, they risk arrest for travelling beyond the limits of the refugee camps.

Without these documents they also could not leave the small compound, comprising two small houses, a yard surrounded by a high bamboo fence, and only one bathroom for the two months of training. For many, their husbands are back in the jungles of Burma, where they may stay for six months at a time.

The Burmese Women's Union, which organized this program, is one of several organizations with a mandate to increase the participation of women in the political process. This involves organizing, providing support and offering training to women who live in exile along the border areas Burma shares with Thailand, India and China.

As these women will be giving leadership in their own camp communities on their return, I asked them to draw their vision of what their communities will look like in the future. They drew a village with streets, a bus and a taxi stand. There were several schools, a fish farm, fields under cultivation and flowers and trees everywhere.

They drew people with smiling faces and women and men working together in harmony. These images were poignant because they are so far from the current reality in the refugee camps where they live. These are the images that drive many thousands of refugees to devote their lives to bringing down the military regime so that they can return to Burma and rebuild their communities.

Are you a Concordia retiree who would like to share similar experiences with CTR readers? Please contact the editor, at barblak@alcor.concordia.ca.