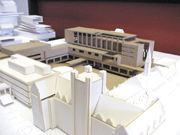 Maquette of the new science complex



by Robert Scalia

Want to find the quickest way to any chemist's heart? Try a spanking new state-of-the art $160,000 Fourier Transform Infrared Spectrofcopy system and carte blanche in designing their own labs. Dr. Markus Lawrence, chair, and Miriam Posner, technical supervisor, of the Department of Chemistry and Biochemistry, can testify to that.

In fact, both burst into laughter when asked to criticize any aspect of the $85-million Science Complex at Loyola Campus, which will become home in August 2003.

The physical move itself might be rough, admits Lawrence. He'll miss the downtown cuisine and, in retrospect, the Genomics Centre could have been a little closer to their own department. That's it, though.

"We've been in the Hall Building forever now," Lawrence explained, in his 11th-floor office. "This place is outdated, and pretty much maxed-out in terms of research capacity."

"We're here to provide the best possible teaching environment for students, and expose them to what's being used in industry," he added, Posner nodding with approval. "The new building will help us do that.

Hoping to avoid cramming these new state-of-the-art labs and instrument rooms with "junk," the department has gone on a shopping spree with a $1-million cash infusion from the Faculty of Arts and Science. Lawrence commended Dean Martin Singer for his commitment to the sciences, and for making the new Science Complex a reality.

An FTIR-Raman, MALDI and LC-MS mass spectrometers and a nuclear magnetic resonance (NMR) system have been purchased at a cost of about $400,000. Five HPLC systems (high-pressure liquid chromatographs) have also been acquired, worth roughly $65,000 each.

Experience with the cutting-edge

This new equipment will allow students to determine the molecular structures of novel compounds and conduct cutting-edge experiments. They are necessary tools for a "real-world" education, Lawrence said.

"It's not just knowing what an NMR system does," Posner added, the excitement creeping up in her voice. "It's actually getting to experience working with the NMR and other high-tech instruments."

Chemistry and Biochemistry will occupy one of the largest chunks of space in the complex. Spread over four floors, the chemists and biochemists will have close to 50 lab/instrument areas at their disposal. This will include eight teaching labs, an amalgamated computer lab and a LabWorks facility, where students can perform computer-aided experiments. Graduate students, who are now assigned to desks in already over-crowded labs, will share offices in the new complex.

All 21 faculty will work out of their own individual research labs, each one custom-designed by its occupant.

"It's a very detailed process," Posner said. These plans, which she and Lawrence ultimately have to verify, are not finished just yet. "You get right into deciding where a sink should go, what faucet to put on that sink, and what the current running through that particular electrical circuit should be."

What is certain is the department will operate in a more hub-like layout that will group corresponding labs and instrument rooms. Analytical, physical and general chemistry students working in their separate labs will share a balance room, for example. The service corridor, meanwhile, will allow for the storage of equipment and transport of potentially hazardous chemicals.

"You don't want undergraduate students carrying reagents through the public corridors."

While promoting a safe and efficient environment, Posner hopes the mixed-function complex will foster increased sharing and collaboration between departments. The complex will also house Biology, the Centre for Structural and Functional Genomics, the Centre for Research in Molecular Modelling, Physics, Exercise Science and Psychology. "It will probably give us a better sense of community — we'll be seeing each other more often," Posner said.

Lawrence takes that line of reasoning a step further. He recalls a time when physical chemists, for example, would only study the reaction of gases. He believes those strict academic divisions are slowly dissolving.

"Now, even physical chemists like myself are getting into genomics, he said. Four faculty members in Chemistry and Biochemistry are currently working with faculty from the genomics centre. It's by no means a huge stretch to envision a future where such interaction will extend to the undergraduate level.

Ultimately, whether it involves academic trends or those set by industry, the key concern for Lawrence is keeping up. He said undergraduate students don't get as much hands-on experience as he would have liked. While he realizes no university has the deep pockets of Merck Frosst, for example, he remains optimistic.

"We have to train students to the best of our ability. I think they like to feel like they're on the cutting edge of technology."