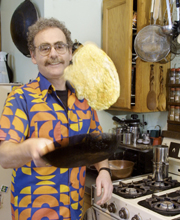 Barry Lazar flips a pancake for his daughter's breakfast in a CBC shirt.

Photo by Andrew Dobrowolskyj

by Joseph Berger

It was late December, and Journalism Professor Barry Lazar had a lot on his mind:

"Arguing with a German library about the cost of rights for photographs in Clara," Lazar began, referring to his latest film, "delaying writing a book on Montreal food for an American publisher for which I have already accepted and spent a royalty advance, preparing a proposal on the Montreal cartoonists [Serge] Chapleau and Aislin for the CBC and NFB, making sure I have enough Hanukkah candles for the rest of the week, and hoping I can get time to do about 40 laps sometime today."

Lazar, a journalistic jack-of-all-trades, began instructing part-time at Concordia five years ago, teaching Public Affairs Broadcasting. Last summer, he introduced a course in Literary Journalism that is being offered this winter. "I approach the task of organizing my courses with great trepidation, almost like going on air," he said. "All teachers are vampires. We feed on the energy that good students radiate."

In addition to teaching, Lazar produces documentary films with his partner of six years, Gary Beitel. The duo's latest release, My Dear Clara, is the latest offering from a team that has put forth films about Santropol Roulant's meals-on-wheels program (Bittersweet Deliveries), palliative care (Endnotes) and more.

"My Dear Clara is a love story shaped by Canadian immigration policies during World War II," explained Lazar, adding that the film has been received "superbly."

Making a film takes about two years for the duo, and is by nature a collaborative effort, though Lazar and Beitel have stuck to basic roles. While Beitel has directed all of their films, Lazar has handled production, including financing and administrative issues. For their current project, they've switched jobs, nothing new to Lazar.

Lazar's career began after he tried his hand at various odd jobs once out of school. Before landing a research gig at the CBC, he dabbled in teaching English to French high-school students, "trying to sell insurance," and running a restaurant. To this day, food is a very important part of Lazar's career.

"I remain intrigued at how Montreal's many different cultures express themselves through cooking," Lazar said."Food is the easiest way to get to know someone. Did you know that in Chinese the greeting for 'How are you' is expressed as 'Have you eaten yet?'"

After he coauthored The Guide to Ethnic Montreal in 1994, The Gazette offered Lazar, a frequent freelancer, a weekly column. Eventually, his column evolved to "Flavour of the Week," a food column that traced the origins and uses of exotic tastes. Recently, the Saturday column morphed into "Taste of the World," giving Lazar the arduous task of hunting down the city's finest takeout each week.

Students, like journalism major Michael Citrome, find that Lazar's background enhances his classes.

"He doesn't lecture for two hours," said Citrome, who studied with Lazar last semester. "He's had a unique career so he tries to create a unique classroom by letting the students' participation orient the discussion."

"I really have just one objective," Lazar insisted. "Make students excited about what they are doing and able to do it better."