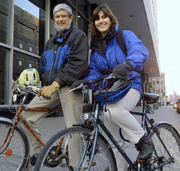 Carol McQueen is following in the footsteps (or wheel tracks) of her father, Professor Emeritus Hugh McQueen, an indefatigable cyclist in all weathers.

Photo by Andrew Dobrowolskyj

by Sylvain Comeau

The troubled international politics of the past decade demands new academic thinking. Concordia graduate Carol McQueen, a Rhodes Scholar at Oxford studying international relations, has developed her PhD thesis to explain the phenomenon of safety zones in recent conflicts.

"Safety zones were originally codified by the Geneva Convention of 1949, but my interest is their use in the 1990s, in Bosnia, Rwanda and Iraq," she said. "Safety zones initially were places like a hospital zone, a place where the parties to a conflict had agreed that civilians and sick people could go and not be affected by the conflict."

Safety zones in the 1990s were very different, largely because of the ethnic warfare that plagued many troubled regions of the world.

"In the 1990s, civilians were actually targeted in the conflict, either by ethnic cleansing or genocide. Therefore, the safety zone had to be imposed by an external body like the United Nations Security Council.

"The fact that there was no clear agreement is what makes the [1990s] safety zones unusual; they never had the full support of the belligerents, so that the consent was either lost at some point, or accorded under duress. As a result, it was necessary to have foreign troops come in and protect the zones and the civilians in them."

In her thesis, which she expects to finish this month, McQueen examines why the UN and countries foreign to the conflicts choose to get involved.

"I'm most interested in why states do this, despite the risks. It is very difficult to set up and defend these zones; it takes a lot of resources and commitment. In each of the cases, except in Iraq, the commitment wasn't sufficient. The result was a problematic, or in the case of Bosnia, a disastrous situation."

In Bosnia, the result was the Srebrenica massacre, in which between 6,000 and 7,000 Muslim men were killed by Serbian forces. "That was a safe area protected by the Dutch, but they weren't able to do anything to defend it."

McQueen argues in her thesis that states were torn about getting involved at all.

"The safe zones were a half-measure. On the one hand, there was strong public pressure to do something to halt ethnic cleansing or genocide; on the other hand, there was unwillingness on the part of the state to actually become involved in the conflict. So they would do something to protect civilians, but without going far enough, and you end up with a quite ambiguous, uncertain response."

McQueen went on to present a theory to explain the sometimes baffling choices made by states. "Part of my thesis is in the area of international relations theory. I argue that you can explain state behaviour by recognizing that they are responding to very divergent, competing interests, including both moral imperatives and strategic concerns."

McQueen, the daughter of Concordia Professor Emeritus of Mechanical Engineering Hugh McQueen, is teaching a course at McGill University called International Organizations, which looks at the role of bodies like the UN, the IMF and the World Bank. She is also a post-doctoral fellow with the Research Group in International Security, which is composed of professors from McGill and the Université de Montréal.

"The goal of the group is to raise awareness of some of the key issues facing states today, in terms of maintenance of international order and security."

Late in November, McQueen discussed the Rwandan part of her thesis at a workshop for the Montreal Institute for Genocide and Human Rights Studies, which is chaired by Concordia History Professor, Frank Chalk, a genocide expert.

"I tried to dispel some of the myths surrounding the safe zone set up by France in Rwanda. The French have been accused by some critics of siding with the Hutus' genocidal regime, while the French government claims honorable, humanitarian motives. I argued that neither of those positions are true."

The French had established a safe zone in the southwest of Rwanda, ostensibly to protect the Tutsis, but the genocide was over by the time it was established. Only Hutu perpetrators were in the safe zone.

"The end result was a situation in which the French seemed to be sheltering the Hutu perpetrators from reprisals by the Tutsis. But the French did have honorable motives, and any state trying to conduct humanitarian operations in Rwanda would likely have faced similar problems.

"It's true that they were hoping to halt the military takeover by the Tutsis' RPF (Rwandan Patriotic Front), but only because they were trying to create a breathing-space for negotiations between both sides.

"The situation was much more complex than some of the critiques at the time, which is often the case."


---
Do you rate a Rhodes? Here's how it works

Question: Bill Clinton was one.
So were Ontario premier Bob Rae and singer/actor Kris Kristofferson.
Concordia has produced eight, but some universities boast hundreds. What is it?
Answer: A Rhodes Scholar.

A Rhodes sends a student from one of a number of countries to Oxford University in England, a scholarship worth about $20,000 U.S. Since it was established by a bequest from South African entrepreneur and politician Cecil Rhodes in 1902, the Rhodes Scholarship has been the acme in academic prestige for overseas students (although apparently it doesn't cut much ice with native Britons).

There are 90 new Rhodes Scholars every year; 11 of those are from Canada, including two from Quebec. Most stay for three years. Candidates must be between 19 and 25 years of age. They must have their undergraduate degree, and have resided for a number of years in their country of origin.

Rhodes Scholars are chosen by a selection committee in their local constituency; these committees usually include a number of former Rhodes Scholars. There is no written examination; it's all done through interviews, including a cocktail party. The candidates are chosen for academic excellence, but also for their all-around involvement and ability.

Elections usually take place in November or December, and the Scholars start at Oxford the following October. After election, the candidate applies to a college at Oxford University, and the election as a Rhodes Scholar is not confirmed until the candidate is admitted to a college.

Scholars are elected for two years in the first instance, with the possibility of an extension to a third year.

In Canada, applications should be made to Mr. A.R. A. Scace, QC, General Secretary, Rhodes Scholarship Trust, PO Box 48, Toronto-Dominion Centre, Toronto, Ont., M5K 1E6.

Here is the latest information we were able to find on Concordia's Rhodes Scholars so far are: Robert Calderisi (L BA history 68), now an executive at the World Bank, in Washington, D.C.; Robert Warren (L BA history 70), a Toronto lawyer; Leon Benbaruk (L BA history 72), owner of Benfield Marketing, in New Zealand; Robert Bradley (BSc mathematics 79), who teaches math at Adelphi University, in New York state; Gilly Filsner (BA sociology 84), a London-based journalist; Boris Maksimov (BA political science 85), who works in the BBC's Russian Service; Siobhan Harty (BA political science 89), a Killam Postdoctoral Fellow at Dalhousie University; and Carol McQueen (BA history 95).