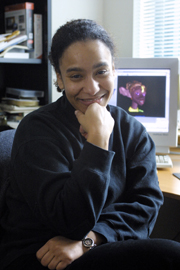 Cilia Sawadogo teaches animation in the Mel Hoppenheim School of Cinema.
Photo by Andrew Dobrowolskyj

by Dana Hearne

A chance encounter while out horseback riding in Burkina Faso changed the life of Cilia Sawadogo, the newest professor of animation in Concordia's Mel Hoppenheim School of Cinema.

Sawadogo, who was born in East Germany to a German mother and an African father, had been living in Burkina Faso since the age of eight.

"I met this Quebec couple when I was 16 and just beginning to feel that Burkina Faso was not where I wanted to spend my life," Sawadogo remembered, "and they encouraged me to come to Quebec City."

A year later, she was in Quebec, studying German, French, Spanish and English at CEGEP Ste. Foy. "I thought I would be a translator," she said, recalling with a smile how she used to practice English on her dog. "It was hard for him," she said, "because he ended up not being able to speak French."

Instead of going into translation, she came to Concordia to do an undergraduate degree in communications, adding a minor in animation. She had found her first love. "Drawing was something I had done all my life, but it was an activity I had always kept to myself," she said. Now this talent was being nurtured and it began to flourish.

She graduated in 1989 and started work in public relations. At the same time, she began to get involved in filmmaking at a professional level for a wide range of organizations, including Vues d'Afrique, the CBC and the National Film Board. "I started at the bottom and gradually worked my way up to the level of animation assistant at the National Film Board," Sawadogo said.

Since 1993, she has directed two films for the NFB, three for Planète Films (her own production company), and one for an independent producer. She is currently working on another film for Planète Films in collaboration with Concordia, a "work-in-progress called L'Arbre aux Esprits."

Four of her films have been award-winners, including two she is especially proud of, La femme mariée à trois hommes, which won the Regard canadien sur l'Afrique in 1993, and Le Joueur de Cora, which won the OUEMOI prize at the pan-African festival FESPACO in 1996.

She has also taught film animation at several colleges and was delighted when a teaching position in the animation program at Concordia opened up. By all accounts, the cinema department shares that delight.

Catherine MacKenzie, chair of the School, said, "Cilia is a wonderful, amazing presence in the department, bringing the students into her own work and encouraging them to find their own voices. She's a model on how to engage students."

Christopher Hinton, head of the animation program, says the department was looking for someone who had fresh ideas, something to say, who could bring a sense of diversity to the program. "We stress the fine arts angle," he said. "We don't want the program to drift in a commercial direction. Cilia is a young filmmaker with lots of ability, a strong sense of graphics and story-telling. Here she has the opportunity to be original and independent, and this sends a powerful message to students."

Sawadogo likes to mix stories from different cultural traditions. "My love of folk tales and fantasy comes from my German grandmother, and my African heritage gives me an understanding of the values of the ancestors."

Her children, Dave, 11, and Mael, 10, also play an important role in her storytelling. "They influence me a lot in how the story goes, in the look of a story and in how the characters move."

One of her dreams is to help further opportunities for African women to make films and to be more valued in the film industry in Africa and elsewhere. She would also like to see a change in the way African women are represented in film. "African women are very strong characters, but in many films they are represented as submissive and powerless. I make sure my female characters are strong-willed, powerful and free."