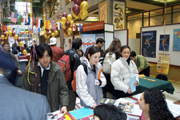 (Click on photo to enlarge)

The Study Abroad Fair, an information session for students held in the Atrium on January 23, attracted a lot of students who particularly enjoyed talking to current and recent participants about their travels. However, far more Concordia students should take advantage of new exchange opportunities.


Photo by Marc Bourcier

by Eyad Hamam

This year, Concordia is host to 331 exchange students: 164 in Arts and Science, 100 in Engineering and Computer Science, 14 in Fine Arts and 53 in the John Molson School of Business.

Only 83 Concordia students are studying abroad on exchange — but that's a substantial increase over the 29 who went on exchange before the recent introduction of the MEQ Student Mobility Bursary. The breakdown by Faculty is 27 students in Arts and Science, none in Engineering and Computer Science, 11 in Fine Arts and 45 in business.

The infusion of money from the Quebec government gives more students the opportunity to study in a foreign country, according to Frederick Francis, assistant director of the Centre for International Academic Cooperation (CIAC) at Concordia.

"One of the main reasons students don't study abroad is money, but we're hoping the grants will encourage more students to apply. It's an eye-opening experience for them, and it gives them more opportunities to do graduate work abroad, and makes them more valuable in the job market after they graduate."

Francis was one of the speakers at a CIAC information session for students held Jan. 23 in the atrium of the downtown library building.

In the fall of 2000, the Quebec Ministry of Education set aside $30 million in bursaries ($10 million a year for three years) for students who want to study abroad. Concordia's share for the first year is $1.2 million.

Only Quebec residents are eligible for the bursary, which ranges from $750 to $1,000 a month, depending on where they choose to study. Studying in Western Europe and the U.S. tends to be more expensive than studying in Eastern Europe, South America and Asia, and this factor determines the amount of money students receive.

"We're already seeing results," Francis said. "The number of Concordia students going abroad increased from 29 to 83 after the bursaries were introduced."

Despite the increase, however, the number of exchange students coming to Concordia still exceeds the number of Concordia students going abroad by more than four to one.

Mitch Blobstein, a commerce student at Concordia, went on exchange to France during the fall of 1999. During his stay at the University of Ceram in Nice, he met many new people, saw a different culture and learned new ways of studying.

In France, he explained, students give presentations on the fly, whereas here, they tend to prepare for them more. "I had a great time there, and since I got back I've been getting better grades," he laughed. "The bad part is that by the time you've settled in and made friends there, it's already time to leave.

"Another complication is the amount of bureaucracy you have to go through before you can leave — everything from getting medical papers and immigration clearance to getting signatures from your professors and advisors." Students need at least six months to get all their paperwork done, he said.

Despite the amount of preparation, however, Concordia student Kirsten Daub still wants to go to Mexico next fall to continue her studies in Spanish.

"Studying abroad is a complicated issue, so if you want to do it, you have to do the research and legwork by yourself," she said, while looking through information handouts and bursary application forms. "I want to go to Mexico to be in a situation where I can speak Spanish every day, and also learn about how other people live."

Twenty-one-year-old Laurent Barthelemy arrived in Montreal in August from Dauphine, France. He is spending one year at the John Molson School of Business as an exchange student.

"The reason I came was to get experience from another culture, and a different business culture," he said. "In France, public universities are much bigger than here, with more people in each class and less interaction with teachers."

France-Quebec exchanges get preferential treatment. French exchange students in degree programs pay the same low tuition as Quebec students. As a result, the vast majority of exchange students at Concordia are from France.

Quebec students who want to study in France get some nice bonuses: an extra bursary that covers their airfare, information sessions on departure and arrival in France, and a free night at a hotel.

However, CREPUQ, the association of Quebec universities, also has agreements with universities in many other countries, and Quebec students are also eligible for a bursary of $750 a month to study for a term or an academic year at another Canadian university.

Professor Balbir Sahni, Director of the CIAC, says that each Faculty and school at Concordia is gearing up for an increase in outgoing students, "thereby helping us realize the true internationalization of Concordia by fostering a two-way flow.

Eyad Hamam is a journalism student from Jordan.
---
Other opportunities for study abroad

Tomorrow, Friday, Feb. 8, a representative of Queen's University who is at Concordia to take part in the business school's Undergraduate Case Competition will be available to talk to students about an interesting program in the United Kingdom.

Eric LeBlanc, manager of international programs at Queen's, will be in Room H-773 of the Hall Building from 11 a.m. to 12:30 p.m. to talk about the International Study Centre at Hertsmonceux Castle, a historic building in East Sussex that was given to Queen's and made into an educational facility in 1994. More information is available at http://www.queensu.ca/isc/.

The Université du Québec à Montréal and the University of Toronto are partners in a program offered by the new Canadian Universities Centre/Centre universitaire canadien in Berlin, Germany.

Two credit courses will be given in French next summer, L'Allemagne au 19ième et 20ième siècle: Histoire et idées politiques and Les relations internationales de l'Allemagne au XXième siècle, and a course in English, German Cinema as Political and Cultural Text.

For more information, please contact the Centre for International Academic Cooperation, L-AD-207, 848-4987.