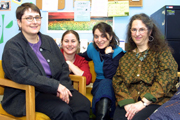 (Click on image to enlarge)

In discussion in Annex Z, which houses Campus Ministry, are chaplain Ellie Hummel, who is current coordinator of the Peer Counselling program, Peer Counsellors Melanie Higgins and Ruxandra Vlad, and chaplain Daryl Lynn Ross, who started the program 12 years ago.

Photo by Andrew Dobrowolskyj

by Eleanor Brown

Patricia Federici's scariest day as a peer counselor began with a suicidal student walking into the downtown Annex Z offices of the Peer Support Program. It's a rare event, but it did happen once last year.

"We talked, I asked what brought them to that point, and then I got them to Counselling and Development. I walked the person over. You don't let them walk on their own."

Federici loved helping people so much last year that she came back for another round, and is one of the 17 students who have volunteered this year for Concordia's Peer Support Program.

The Peer Support Program welcomes, free of charge, any Concordia student who needs help. The program has been coordinated for the last few months by Chaplain Ellie Hummel.

Most of the students who drop in to talk are grappling with stress, she said. They're having problems with a roommate, working out values that conflict with their parents', having clashes with partners, or they're trying to juggle studying for three midterms on the same day. Sometimes they're just lost and looking for directions to the Physics Department, or trying to fill out a complicated bursary form.

"The peer helpers are not [professional] counsellors, they're students, Hummel said. "They struggle with midterms, too."

Many of the volunteers are in psychology or applied human sciences. Some are looking to solidify their résumés; others are following the example of a friend or family member who is an alumnus of the program.

"They make new friends, they learn so much about themselves, and they get to help others," Hummel said. "They learn to trust each other. It's a program that models caring for one another."

That's not just for the volunteers. "I really believe students have a lot of ability. We help them find it," she said. "I believe in community, but I can only be there for so many people. It's a way to broaden the compassion and care I try to live out in my life and in my job."

Federici is 23, and graduating this semester from a psychology program. She doesn't know what happened to that suicidal student. That part can be hard.

"In most cases, people don't come back. In a way, you want to track them, but you can't. You have to trust that person, and have faith in yourself, that you know you did a good job."

Stress can get to the volunteers. "Gambling addicts, drinking — it's a lot to handle," Federici admitted.

The volunteers meet every two weeks to talk, while maintaining the confidentiality of their clients. Sometimes, peer supporters will drop in on someone else's shift just to chat.

Federici says female volunteers outnumber men in most years, but not always. More men are going into the helping professions, but there is a general feeling — maybe a myth — that women are more nurturing. Men and women seem to like to talk to women, but some problems, like sexual issues, lead to a same-gender pair-up.

Volunteers try to make the office welcoming. Federici: "You give them a big smile, a warm welcome, a comfy couch. They'll start with a little tiny topic, you probe a little bit more, see if they'll tell you more. They want to know that you're trustworthy first.

"I find my listening skills are 10 times better than before," she went on. "I find myself interrupting a whole lot less. I am so in the moment now. My relationships with family and friends have actually gotten better."

Would-be volunteers must make a serious time commitment. The application form screens for maturity, coping skills and self-awareness.

The deadline for applying for the next academic year is mid-April. Then comes an interview, a weeklong training session in August and an intensive long weekend in September.

An office shift for a peer helper lasts two hours. The office is located in Room 02 of Annex Z, at 2090 Mackay, from noon to 5 p.m, Monday to Thursday, and for some reason, the heaviest traffic is between 1 and 3 p.m. — as many as three students can pop by then.

Campus Ministry and the Peers collaborate to offer a hot vegetarian meal every Thursday night between 5-7 p.m. They ask for a $1-2 donation, and the friendly home-like atmosphere helps students feel welcome and nourished in body and soul.