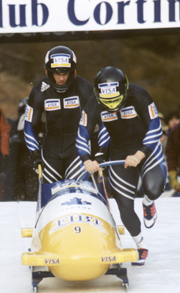 Giulio Zardo in competition last year.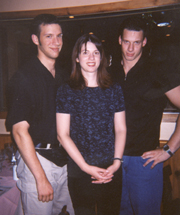 Olympic bobsledder Giulio Zardo (right) with siblings Valentino, Alessandra

by John Austen

Olympic glory touched Concordia last week when no fewer than four former Stinger hockey players suited up for the women's gold-medal game at the Winter Olympics in Salt Lake City. Thérèse Brisson and Caroline Ouellette played for Team Canada, while Cammi Granato and Karen Bye were members of Team U.S.A.

Brisson and Ouellette won gold, while Granato and Bye had to settle for silver, as Canada upset the Americans 3-2 in a thrilling final game. "I remember seeing all those girls play for the Stingers in years past," said Stinger fan Arthur Ross, 68, of Montreal West. "They were all great, especially Granato. She's probably the best female hockey player I've ever seen."

While men's and women's hockey triumphs grabbed the headlines this past week, it was a young bobsledder from Montreal that had veteran athletes crowing. About seven months ago, Canadian bobsled pilot Yannick Morin walked into Pro-Gym on Hochelaga St. E. in Montreal and asked the owner if he knew of anyone who was both strong and fast, and might want to try something a little different. All fingers pointed to Giulio Zardo, a 21-year-old Concordia student who "lived at the gym."

The "something different" was a chance to become a member of the national bobsled team. Zardo decided to give it a go, and seven months later came within a hair of winning an Olympic medal in Salt Lake City.

Zardo was a part of Canada I's two-man bobsled team that finished in fifth place, nine one-hundredths of a second out of third spot. The pilot of the team was veteran Pierre Lueders, the gold-medal winner in the 1998 Games in Nagano, Japan.

"In the next four years [Zardo] is going to take the sport by storm, for sure," Lueders told a media scrum following the final race. "It's really up to him. From what I've seen so far, he's a fantastic athlete, a fantastic kid! Man, some of the things he can do in the weight room, and [his speed and quickness] when pushing. And I mean, here, coming in front of all these people and trying to perform — Wow, I wish I could hold it together as well as he does."

The two keys to a successful bob run are a fast push time and then, once in the sled, a clean ride reaching speeds of more than 130 km/h.

The six-foot-one, 235-pound Zardo can press 450 pounds and can squat 680 pounds. He consumes more than 3,000 calories a day, with his high-protein diet consisting of lots of tuna and oatmeal.

"My wife never stops feeding him when he's home," said Giulio's father Joe Zardo. "This whole bobsled thing is incredible. I was a nervous wreck watching him on TV. Just think, six months ago I didn't even know what a bobsled was!"

After Morin discovered Zardo at Pro-Gym, it wasn't long before word filtered back to the national team coaches in Calgary and the likes of Lueders that there was this new "phenomenon from Montreal." He joined Morin on the Canada II team and had success through the World Cup season. He received an e-mail from Lueders at Christmas asking him to join him on Canada's number 1 sled. In January, Lueders and Zardo won gold at the World Cup, posting a track record in Cortina, Italy.

Zardo began developing as an athlete playing football in the powerful St. Léonard Cougars organizations. He then went to play CEGEP football with the Champlain-Lennoxville Cougars, where he led his team to a pair of provincial (Bol d'Or) championships. He was also on the Canadian team that won the Global Junior Championships two years ago in Atlanta, Ga.

The linebacker just missed out on a scholarship to the University of Colorado and decided to enrol at Concordia.

"Giulio is a great kid and can do anything he puts his mind to," said Joe Zardo. "Watching him compete at the Olympics has been a tremendous thrill for our family."

Giulio has a brother, Valentino, and a sister Alessandra, both recent graduates of Concordia.
.