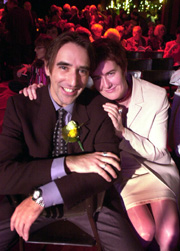 Jason Camlot and Kate Sterns at the Quebec Writers Federation gala
Photo by Jean-François Majeau

by James Martin

Striking, original imagery earned Jason Camlot's debut volume of poetry, The Animal Library (DC Books), a spot on the A.M. Klein Prize for Poetry shortlist (part of last month's Quebec Writers' Federation Awards).

A tenure-track professor in Concordia's English department, Camlot has a knack for crafting unforgettable images, deftly conjuring "the hiss of cappuccino machines like Madagascar cockroaches" on one page, "a dried sea lion on the floor" the next.

The son of a furrier, Camlot worked in fur factories from a young age. Now an academic, he draws analogies between counting rows of pelts in a cold room and browsing through books on a library shelf — a unifying "relationship between artifacts and emotions" that informs the poems in The Animal Library.

Whether he's using images born of early autobiography (e.g., the tactile sensation of pelts), or images reflecting his current academic interest in Victorian literature (e.g., a misplaced wax cylinder recording of Alfred Lord Tennyson, discovered "in a decrepit third-floor flat"), Camlot is fascinated by the different ways of preserving memory.

Rooting through the past

This idea of recording the past will most certainly figure in Camlot's next book, even though he's unsure which work-in-progress will be the first to see the light of publication. One possibility is an as-yet-untitled book of criticism examining "the implications of recording technology on the literary arts."

Camlot has been busy rooting through various archives, researching "what you might call the incunabula of recorded sound, the pre-commercial recordings which were done by the agents of Thomas Edison."

Struck by "the seance-y nature" of hearing scratchy recordings of, say, Tennyson reading "The Charge of the Light Brigade" in 1890, Camlot is investigating ideas of reliving history through recordings (drawing upon libraries of "living" voices, as it were, rather than libraries of books), and the relationship of early commercial recordings to a broader culture of elocution.

Then again, Camlot might return to bookstores with a new volume of poetry. Picking up from The Animal Library's playful, yet emotionally charged, kitsch imagery (e.g. delicate Victorian dolls undergoing psychoanalysis, a miniature smallpox epidemic "spinning on the platform of a music box"), he's continuing to explore the idea of "finding intense emotion in the tritest of places" with a series of poems about poets in the workplace.

"I'm writing about poets in places you wouldn't necessarily expect to find them," he explained, "office receptionist poems, things like that. It goes back to the Romantic idea of the 'office of the poet,' but I'm thinking about it more in the Dilbert sort of way because there are comical aspects to it."

Numerous projects on the go

The "workplace" poems are just one of several diverse poetic projects currently on the go. In addition to a series of poems related to John Ruskin's The Storm-Cloud of the Nineteenth Century (in which the Victorian critic catalogued how industrial pollution was literally changing the clouds), Camlot recently completed a long poem entitled "Dark Drink" that has its genesis in his MA days at Boston University.

Finding himself a stranger in a strange land, the Montreal native turned to literature to help "make sense of what the United States was all about." The result was a vicarious variation on "Hi, Bob," the infamous dormitory drinking game: instead of downing shots while watching The Bob Newhart Show, Camlot read Hemingway's The Sun Also Rises ("a very American book") and wrote down every sentence that makes mention of drinking. "As you can imagine," he recalled, "that's quite a few sentences."

Several years (and a PhD from Stanford) later, Camlot began working through his distillation of Papa's boozy language, eventually "turning out a poem of my own about drinking."

Ruskin on clouds, Hemingway on drinking, poets on the payroll. Jason Camlot may not have taken home the QWF award, but his next book of poetry promises to be every bit as inventive, funny, and insightful as The Animal Library.